I have a lot of readers in Texas, it would seem. Every time I make a book tour or attend a convention or blog about my travels to Europe or Australia or wherever, I get a rush of emails asking, "When are you coming to Texas?"
I can finally give the answer you Texans want to hear: I am coming to Texas NEXT WEEK.
I will be flying in on Thursday, March 21, to College Station, home of Texas A&M University, where my papers and manuscripts and such are all on deposit in Special Collections at Cushing Memorial Library. (A&M has one of the country's great SF and fantasy collections, a treasure trove for scholars of the genre). I'll be doing a reading, a signing, and speaking at a fundraising dinner, and many of my manuscripts and papers and collectibles will be on display.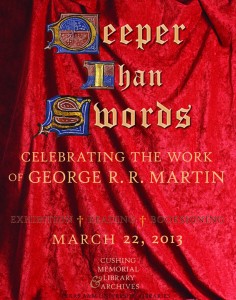 More information here: http://deeperthanswords.library.tamu.edu/
The library events, scheduled for March 21 and March 22, are all sold out, alas.
However, immediately after "Deeper Than Swords" comes AGGIECON, A&M's storied sf/fantasy convention. I am staying for that one as well, so if you miss me on Thursday and Friday, you can still catch me on Saturday and Sunday.
You can check out the Aggiecon details at http://cephvar.tamu.edu/aggiecon .
Sign up there or at the door. Besides me, Aggiecon 44 (I told you, this is an old and storied convention) will also feature Ernest Cline of READY PLAYER ONE fame, and a number of other great guests. Ty Franck (also known as the back half of James S.A. Corey) will be coming with me, Howard Waldrop says he'll be coming down from Austin, and some of my other Wild Cards writers may turn up too.
Last time I attended an Aggiecon it was… oh, I don't know, 1980 or thereabouts… but I have fond memories of past visits to A&M, most of them involving great Texas barbeque, too much bheer, pretty college girls, and Aggies in uniforms politely but firmly asking me to remove my hat. 'twill be interesting to see if any of that still applies. Somewhere in A&M's student union may be my lost youth… I know I had it the last time I visited…
And for those of you who can't make it to College Station… have no fear, I will be coming back to Texas again this year, for worldcon in San Antonio over Labor Day. It's too late to nominate for the Hugos now, but there's still plenty of time to sign up for LoneStarCon 3, and see them awarded.
Current Mood:
null