DOWN THESE STRANGE STREETS, the latest anthology from me and Gardner Dozois, was released on October 4 in hardcover and ebook formats… and Pat, of Pat's Fantasy Hotlist, is giving away a couple of copies.
To enter, check out the contest rules at http://fantasyhotlist.blogspot.com/2011/10/win-copy-of-down-these-strange-streets.html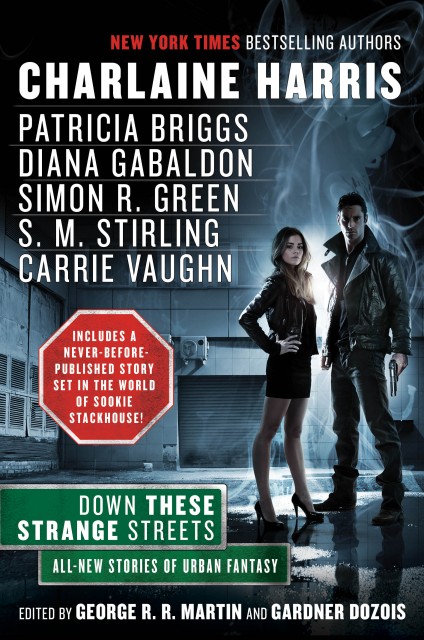 DOWN THESE STRANGE STREETS is the latest crossgenre anthology from Gardner Dozois and yours truly. This one is called DOWN THESE STRANGE STREETS, and in its pages you'll find another all star roster of writers, with a mixture of urban fantasy, science fiction, hardboiled mystery, noir, paranormal romance, historicals, and fantasy PI stories.
The lineup includes a Lord John novella from Diana Gabaldon, a SPQR story by John Maddox Roberts, a Charlaine Harris story set in the world of Sookie Stackhouse, a Garrett tale from Glen Cook, an Edge story from Melinda Snodgrass, a Gordianus yarn from Steven Saylor, a WWII mystery novella by Bradley Denton (that deserves to be an awards contender, if there is any justice), a Joe Lansdale story than can only be described as Gonzo Lovecraft, and wonderful contributions from Carrie Vaughn, Conn Iggulden, Simon R. Green, Laurie R. King, Lisa Tuttle, M.L.N. Hanover, Patricia Briggs,and S.M. Stirling.
The complete table of contents:
– "The Bastard Stepchild" (introduction), by George R.R. Martin
– "Death by Dahlia," by Charlaine Harris
– "The Bleeding Shadow," by Joe R. Lansdale
– "Hungry Heart," by Simon R. Green
– "Styx and Stones," by Steven Saylor
– "Pain and Suffering," by S.M. Stirling
– "It's Still the Same Old Story," by Carrie Vaughn
– "The Lady Is a Screamer," by Conn Iggulden
– "Hellbender,"by Laurie R. King
– "Shadow Thieves," by Glen Cook
– "No Mystery, No Miracle," by Melinda Snodgrass
– "The Difference Between a Puzzle and a Mystery," by M.L.N. Hanover
– "The Curious Affair of the Deodand," by Lisa Tuttle
– "Lord John and the Plague of Zombies," by Diana Gabaldon
– "Beware the Snake," by John Maddox Roberts
– "In Red, With Pearls," by Patricia Briggs
– "The Adakian Eagle," by Bradley Denton
And for those who don't win a free copy from Pat's Fantasy Hotlist, don't fret. You'll find DOWN THESE STRANGE STREETS in your favorite local bookstore or online retailer, and they'll be glad to sell you one.
Current Mood:
null