Well, okay, maybe not "soon."
But eventually… we hope… (fingers crossed).
The good folks at Mike the Pike productions are developing my werewolf novella, "The Skin Trade," into what we all hope will be a major motion picture. These things do take time, of course, and we're still a long way from the cameras rolling… but Mike the Pike has commissioned this nifty poster as a promotional sales tool, and I thought I'd share it.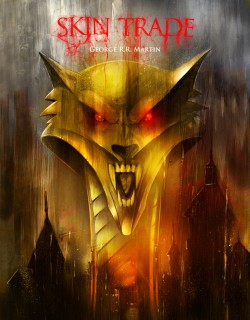 Now all we need is a movie to go with our poster.
You can find out more about Mike the Pike at their website: http://www.mikethepikefilms.com/
On other fronts, I am writing on DANCE WITH DRAGONS, writing on episode eight of the HBO series, waiting for three more rewrites to come in on FORT FREAK, looking at some spectacular art by John Picacio, and spending my spare time with Varys, Littlefinger, the Old Bear, Jory Cassel, Septa Mordane, Bronn, and some other old friends. Need more hours in the day, please.
Current Mood:
null