What more could you want?
Coming in November, the latest original anthology from me and my sometime-partner, Gardner Dozois (former editor of ASIMOV's and winner of umpty-ump Hugo Awards as our field's best editor): SONGS OF LOVE AND DEATH.
The good folks at Pocket Books have just sent us the cover. Have a look.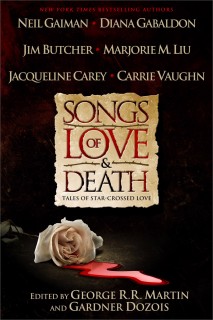 The lineup:
-Jim Butcher, "Love Hurts" (a Harry Dresden story)
-Jo Beverly, "The Marrying Maid"
-Carrie Vaughn, "Rooftops"
-M.L.N. Hanover, "Hurt Me"
-Cecelia Holland, "Demon Lover"
-Melinda M. Snodgrass, "The Wayfarer's Advice" (an Imperials story)
-Robin Hobb, "Blue Boots"
-Neil Gaiman, "The Thing About Cassandra"
-Marjorie M. Liu, "After the Blood"
-Jacqueline Carey, "You and You Alone" (a Kushiel story)
-Lisa Tuttle, "His Wolf"
-Linnea Sinclair, "Courting Trouble"
-Mary Jo Putney, "The Demon Dancer"
-Tanith Lee, "Under/Above the Water"
-Peter S. Beagle, "Kashkia"
-Yasmine Galenorn, "Man in the Mirror"
-Diana Gabaldon, "A Leaf on the Wind of All Hallows" (an OUTLANDER spinoff)
The anthology will be released as a hardcover under the Gallery imprint.
Current Mood:
null