Thanks, everyone. The outpouring of enthusiasm has been amazing. The comments are piling up here faster than Ty can unscreen 'em, my phone is ringing off the hook, and my email is exploding. And of course the story is all over the internet. Quite a day.
For the six of you who may not have seen it elsewhere, here's a production still from the pilot sent out by HBO.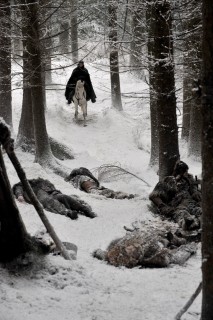 Lots, lots more to come in the days and weeks and months ahead. I will probably not be the best source for most of it, however. I'll be here writing, while David and Dan will be out in the center of the storm, writing the scripts and supervising pre-production.
On other fronts, I hit page 1311 yesterday. No, not done yet.
For some reason, got nothing written today.
Current Mood:
null