Subterranean Press reports that they are down to their last seventy-five copies of SONGS OF THE DYING EARTH, the Jack Vance tribute anthology, co-edited by me and Gardner Dozois and featuring stories by Neil Gaiman, Dan Simmons, Phyllis Eisenstein, Paula Volsky, Walter Jon Williams, Glen Cook, Howard Waldrop, and many other top fantasists and Vancephiles, all gorgeously illustrated by Tom Kidd.
http://subterraneanpress.com/index.php/2009/07/31/songs-of-the-dying-earth-going-out-of-print/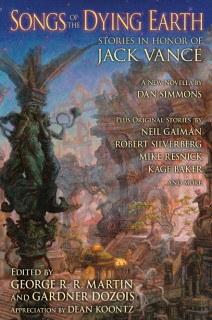 If you've been thinking about picking up this one, this may be your last chance to snag a copy before the illustrated edition goes out of print. Once that happens, you'll need to wait for either the UK edition from HarperCollins Voyager (later this year) or the Tor edition (late 2010).
Current Mood:
null