This year's shortlist for the World Fantasy Awards has been announced, and I am proud and pleased to learn that ROGUES is a finalist for the Howard as Best Anthology.
The winners will be announced at this year's World Fantasy Con in Saratoga Springs. Which I will not be able to attend, alas. I'd hoped to… the last WFC in Saratoga was great fun, and I loved the city, and the train ride up the Hudson from NYC… but the press of work, etc.
For the full ballot, go here: http://www.worldfantasy.org/awards/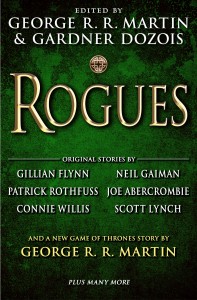 (I would be surprised if ROGUES actually won. It's up against some strong competition, including an anthology by my dear friend Ellen Datlow, and "Never get between Ellen Datlow and a World Fantasy Award" is right up their with "Never get in a land war in Asia" and "Never play poker with a man named Doc" where life's truisms are concerned. It is, however, an honor just to be nominated).