He is the common-born son of the steward to the Lord of Blackhaven.   He has no claim to lands or titles, all he has is his honor and his skill with sword and lance.
He is a challenger, a champion, cheered by the commons, beloved of the ladies.
He is a lover (or is he?), a seducer (or is he?), a betrayer (or is he?), a breaker of hearts and a maker of kings.
FIRE & BLOOD readers know him as Ser Criston Cole.
HOUSE OF THE DRAGON viewers will know him as FABIEN FRANKEL.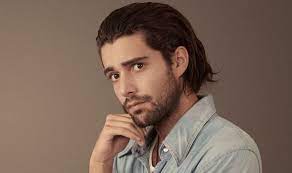 In some of his other roles, Frankel has been the son of Dennis Franz (NYPD BLUE) and the lover of Emilia Clarke (LAST CHRISTMAS).   And now he is getting tangled up with some more Targaryens.   We shall see how that goes.
Welcome to Westeros, Fabien.
And do keep that sword sharp.
Current Mood:

pleased