Ogre Jenni speaking! I am one of George's assistants here in Santa Fe.
The Jean Cocteau Cinema Bookstore just received some copies of Hunter's Run, a science fiction story with a psychological thriller backbone, by George R.R. Martin, Gardner Dozois, and Daniel Abraham.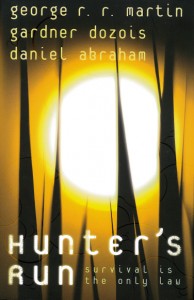 ABOUT THE BOOK:
Running from poverty and hopelessness, Ramón Espejo boarded one of the great starships of the mysterious, repulsive Enye. But the new life he found on the far-off planet of São Paulo was no better than the one he abandoned. Then one night his rage and too much alcohol get the better of him. Deadly violence ensues, forcing Ramón to flee into the wilderness.
Mercifully, almost happily alone—far from the loud, bustling hive of humanity that he detests with sociopathic fervor—the luckless prospector is finally free to search for the one rich strike that could make him wealthy. But what he stumbles upon instead is an advanced alien race in hiding: desperate fugitives, like him, on a world not their own. Suddenly in possession of a powerful, dangerous secret and caught up in an extraordinary manhunt on a hostile, unpredictable planet, Ramón must first escape . . . and then, somehow, survive.
And his deadliest enemy is himself.
Each book is signed by all three authors, and you may purchase your copy here. There are only a handful of copies available, so order quickly! If you have an inquiry about international shipping, please email jeancocteausantafe@gmail.com for a quote.
This message has been brought to you by the Minions of Fevre River.