Back in April, "Monster Hunter" (the premiere episode of the first season of DARK WINDS) won the Wrangler Award for the Best Television Drama from the National Cowboy and Western Heritage Museum in Oklahoma.
I posted all the details on my Not A Blog:  https://georgerrmartin.com/notablog/2023/04/16/dark-winds-wins-wrangler/
I was not able to attend the awards ceremony in person, alas, but the good folks at the museum promised to send the award.
I'm delighted to report that the Wrangler finally rode up here in Santa Fe.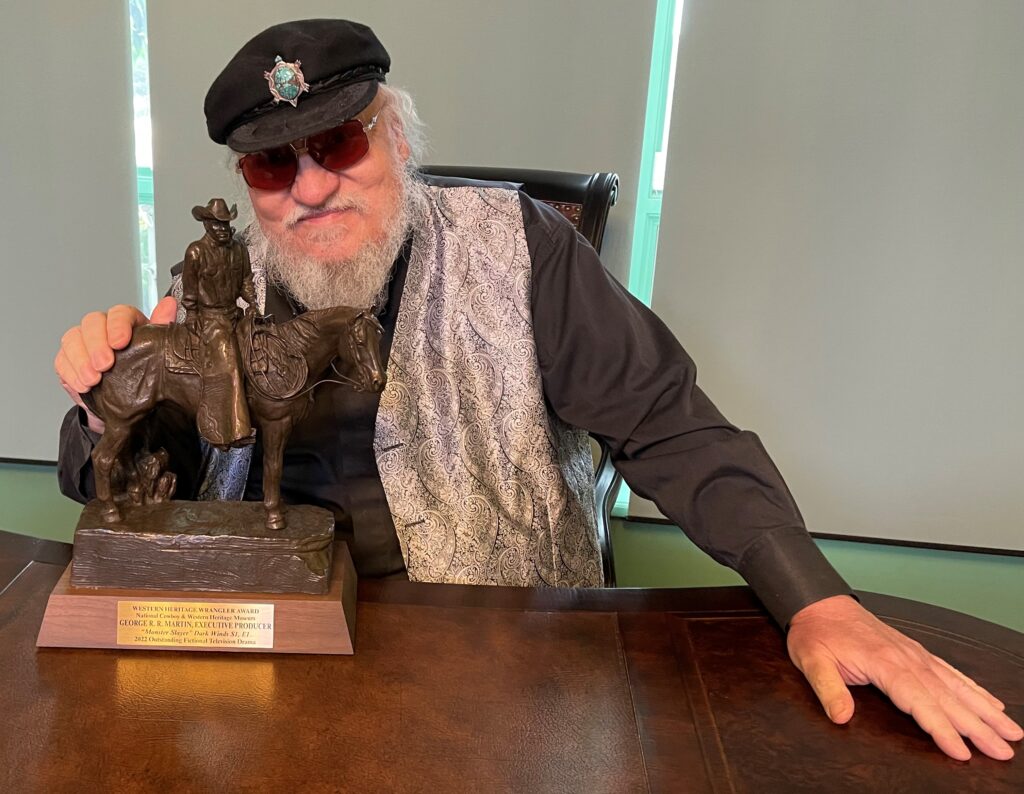 The Wrangler is quite an impressive award, as you can see.   Solid bronze, I think.  I have a few spaceships and nebulae on my mantle, and some busts of literary luminaries as well, but this will be the only cowboy.   I'm thrilled to have him.   We're very proud of DARK WINDS.
Thanks to the museum, the judges and voters, all the viewers at home, our amazing cast and crew, my producing partner Robert Redford.. and of course the late great Tony Hillerman, whose stories of Joe Leaphorn, Jim Chee, and the Navajo Tribal Police are the basis of DARK WINDS.
Speaking of which, the second season of DARK WINDS premieres on JULY 30 on AMC and AMC+.   It's even better than the first season, I think.   Take a look and see what you think.
Current Mood:

pleased