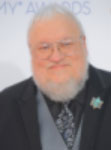 Here's a post I did not expect to be writing.
HOUSE OF THE DRAGON won the Golden Globe last night, as the Best Drama of 2022!
It was, of course, an honor just to be nominated, but I never expected that we would  win.   After all, GAME OF THRONES had been nominated five times, and had never actually taken home a Globe (Peter Dinklage did win one, as Best Supporting Actor, but never the show itself).   I was in attendance at the Beverly Hilton for several of those nights, but I did not fly out to LA this time, because… well, I have a lot to do, I am way behind with much of it, and anyway, no one expected us to win.   We faced some very formidable competition.   THE CROWN had won twice before, so we knew how much the Hollywood Foreign Press loved that show.   BETTER CALL SAUL and OZARK were both up for their final seasons, and usually a show that is bowing out gets a boost from that.   Last chance, and all.   And SEVERANCE was also in the category, one of the hottest new shows of the past year.  Against that field, I figured we were the longest of long shots.
But when the envelope was opened, it was HOUSE OF THE DRAGON, and…
Miguel Sapochnik, Milly Alcock, and Emma D'Arcy were on hand to accept for us.   Emma was also a nominee, for Best Actress, but Zendaya took that Globe, so… it was great to see them get up there.   Ryan Condal could not make it, he's off in London deep in pre-production on HotD season 2, but I know he's as thrilled as I was.   My hat is off to our amazing cast and crew; this is their Globe as well.   And of course congratulations are due to all our friends at HBO, who made the show possible.  Thanks as well to the Hollywood Foreign Press and everyone who voted for us… and everyone who voted for THE CROWN, SEVERANCE, OZARK, and BETTER CALL SAUL as well.   Amazing shows, every one.
And thanks as well to all of you, our fans, viewers, and readers.
Dracarys.
Current Mood:

excited