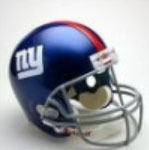 … in the National Football League.   Even for beleaguered Giants and Jets fans, like yours truly.
The annual NFL Draft starts tomorrow, and I'll be watching, as I do every year.   This will be a strangest draft since… well, forever.   In the past decade or so, ESPN and the NFL network have made the draft a huge televised event, with thousands of fans in attendance and top college players being flown in from all over the country to enjoy their moment of glory when their names are called.    Not this year.  Thanks to Covid-19, there will be no big party in Las Vegas, no green room crowded with hopefuls praying they won't slide, no stars-of-tomorrow parading up on stage to get a jersey from Roger Goodell.  The teams will all be working from their own war rooms, or maybe virtually, and the players will be at home.
Considering that the draft began many decades ago with a bunch of guys sitting at card tables and shuffling index cards, maybe this is a throwback year.   When you stop to think of it, it is amazing that the NFL has made a huge televised extravaganza of a show where something significant happens every ten to fifteen minutes or so.
The Giants, courtesy of the truly dismal season they had last year, get to pick fourth.   If their season had only been a little MORE wretched, they might get to draft Chase Young out of Ohio State, who is widely regarded as the best player in the draft.  Alas, he will probably be snapped up by the Redskins, who pick second.   There is a lot of buzz about this year's quarterbacks, but the G-Men got their new young signal caller last year when they picked Daniel Jones, so they won't be playing that game… though their GM has stated that he is open to trading down if someone really wants to jump up to grab Tua or Herbert (Burrows will probably be gone with the first pick, to the Bengals).  If Big Blue stays put, Mel Kiper and Todd McShay both have them drafting the linebacker out of Clemson, Isaiah Simmons, a defensive stud.   Other mocks show them taking an offensive tackle instead, to protect Daniel Jones.   There are four good ones in this draft, it seems.   The ideal outcome, for me, would be for the Giants to grab Simmons with the fourth pick, and get one of those big tackles at the top of the second round… assuming one drops that far.   That may be too much to hope for, however.  And knowing the Giants, they are just as likely to go a different way entirely and surprise everyone, as they did last year.
The Jets pick eleventh, since they had a somewhat better (losing) season.   The mock drafts are all over the place for them.  Then again, by the time you reach eleven, all the mocks are worthless anyway.   All it takes is one team zigging when the "experts" have them zagging, and everything below that is up for grabs.   Myself, I think Gang Green should grab a wideout.   There a bunch of good ones coming out this year, and the Jets lost Robby Anderson, their best receiver, in free agency.  Sam Darnold needs someone to throw to.
Beyond the draft, though, the real question is whether or not we are going to have an NFL season at all in 2020.   Yes, training camp is months away, and the season openers even further out… but if the coronavirus is still raging unchecked by then, packing tens of thousands of fans into a stadium is a recipe for disaster.   As much as I love my NFL Sundays, I hope the NFL will do the prudent thing if the virus has not abated by then.   Life may be meaningless and full of pain for Jets and Giants fans, as I have asserted many a week these past few seasons after watching my teams lose and lose and lose… but it is still life.   And as Tyrion Lannister once said, life is full of possibilities.
((I am going to turn comments on for this one, but only for talk about the draft and the NFL season.   Off comment posts will be deleted)).
Current Mood:

hopeful
Comments
Comments have been closed for this post.