Did you miss TEXAS HOLD 'EM when it first came out in hardcover?
No problem.   Come APRIL 28, Tor will be releasing the book in trade paperback.   All the fun, for fewer dollars.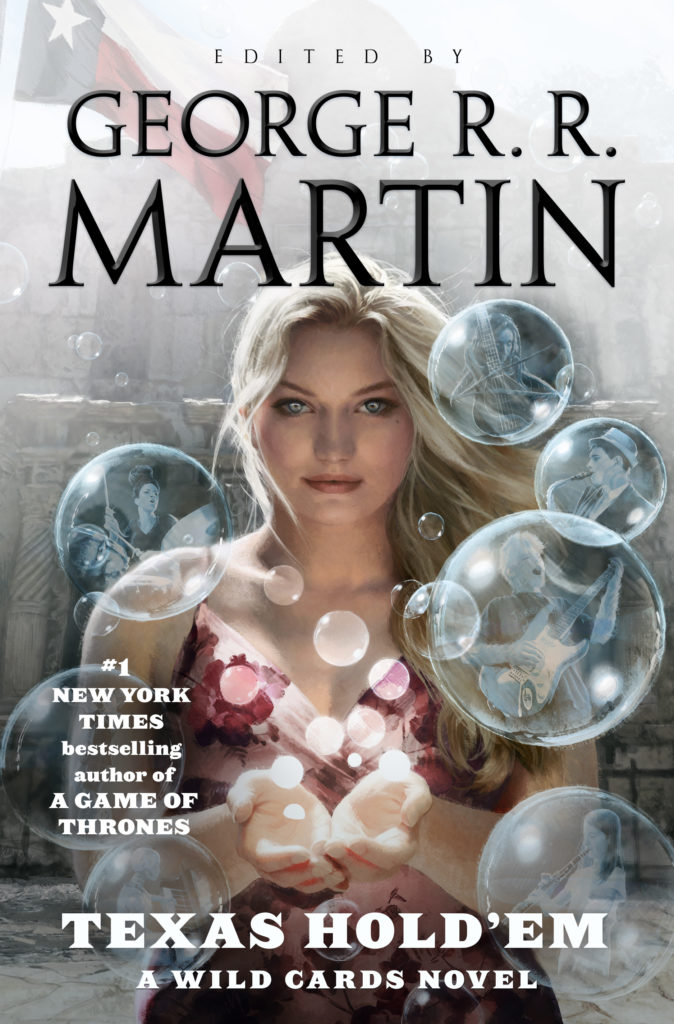 TEXAS HOLD 'EM is the twenty-seventh volume of the Wild Cards series, and the third in our America Triad… but it stands alone just fine, and you do not have to have read any of the preceding volumes to enjoy it.   It's the story of a group of kids from Xavier Desmond High in Jokertown travelling to San Antonio for a jazz band competition, and all that befalls them there, starring an all star cast of favorite characters both old (Mr. Nobody, Jade Blossom, and Bubbles) and new (Rubberband, Bacho, Skeeter, The Darkness and The Dust).   Contributing writers on this one were Caroline Spector, William F. Wu, Walton (Bud) Simons, David Anthony Durham, Max Gladstone, Diana Rowland, and — in his last solo outing for Wild Cards — the late great Victor Milan, who helped launch the series back in 1987.  I edited, assisted by Melinda M. Snodgrass,
The Wild Cards universe is vast, and contains both darkness and light.  TEXAS HOLD 'EM is one of our lighter outings, a good fun read.   If that's what you are looking for during these grim days of isolation and quarantine, give it a try.   I think you will enjoy it.
You can reserve an autographed paperback, signed by yours truly, from Beastly Books, mailorder.   We also have a good stock remaining of the original Tor hardcover, with signatures by several writers as well.   All at https://jeancocteaucinema.com/beastlybooks/
Current Mood:

pleased