I'm just back from ten days in LA, and the Emmy Awards… where GAME OF THRONES once again won the Big One as the Best Drama.  It's the fourth win for GOT… and, along with Peter Dinklage's fourth victory as Best Supporting Actor in a drama, and all the trophies our amazing crew snagged the previous weekend at the Creative Arts awards, helped HBO once again take home more Emmys than any other network, channel, or streaming service.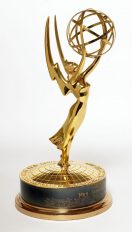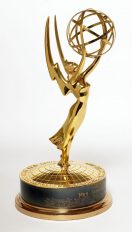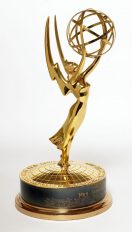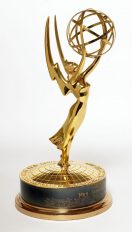 Of course, we lost a few as well.   Alfie Allen and Nicolaj Coster-Waldau were also finalists in Best Supporting Actor, but lost to Peter.   GAME OF THRONES had three directors nominated (David Nutter, David Benioff & D.B. Weiss, and Miguel Sapochnik), David & Dan were up again for writing, and  we had no fewer than FOUR finalists in Best Supporting Actress in a drama (Maisie Williams, Sophie Turner, Lena Headey, and Gwendoline Christine, all of them superb), but as often happens when a show has more than one nominee in a category, they ended up splitting the GOT vote.  Kit Harrington was nominated as Best Actor in a leading role, and Emilia Clarke as Best Actress, but the Emmys went to others.   The Emmys are nothing if not competitive, and there were some wonderful performances last year… from a whole host of shows.
But it IS a honor just to be nominated, especially now, in this day and age of peak television… a sentiment all of our finalists share.   They can all be proud of the work they did, and of the recognition they received from the members of the Academy.
After eight seasons, GAME OF THRONES leaves the air with more Emmys than any other primetime series, comedy or drama, in the entire history of television.   Not too shabby, I'd say.   I am very pleased to have been a part of setting that record.
Parting is such sweet sorrow, though… it was wonderful to share the moment with all the friends I've made during our run, but there was a bittersweet feel to the occasion as well, knowing that this would be the last time all of us would be together.   I could not help but think back to my days on TWILIGHT ZONE and BEAUTY AND THE BEAST in the 80s.  I still see some of the writers and actors I met on those shows from time to time, but others I have lost track of entirely.   That's the way it goes in television and film.  Will I ever again have the privilege of working with some of these incredible talents who helped bring my books to life?  One never knows…
One thing I do know.   I'm not done with Westeros, and HBO isn't either.   I have WINDS OF WINTER to finish… and A DREAM OF SPRING… and more Dunk & Egg stories… and the second volume of Archmaester Gyldayn's history.   And we hope to have some exciting news about the successor shows soon as well.
Stay tuned.
Current Mood:

bouncy