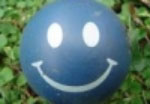 The days are rushing by faster and faster, it seems.  We're already into October and I haven't yet mentioned all the highlights of our travels to London, Dublin, and Belfast in August.
One of those highlights, beyond a doubt, was when I was presented with the An Post Irish Book Award in Dublin.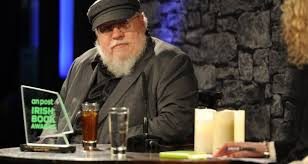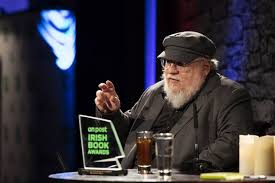 The presentation was made at Dublin's historic General Post Office, the center of the 1916 Easter Rising… the Irish Alamo.  The significance of the site was not lost on me, and inspired my remarks, which centered around history and the need to learn from it.
Accounts of the presentation can be found online at:
https://www.rte.ie/entertainment/2019/0820/1069905-george-rr-martin-to-receive-irish-book-awards
https://www.thebookseller.com/news/george-r-r-martin-wins-international-recognition-award-irish-book-awards-1070641
https://www.irishpost.com/news/game-thrones-author-george-r-r-martin-honoured-irish-book-awards-170445
In addition to the trophy shown in the photographs above, I was also presented with a marvelous bronze statue of the Irish warrior  hero Cuchulainn.
Current Mood:

pleased