Tomorrow is the official publication day for TEXAS HOLD 'EM, the latest original mosaic novel in the Wild Cards series.   Grab one from your favorite local bookstore or online bookseller.   If you want an autographed copy, those will be available from my Jean Cocteau Cinema bookshop.
FIRE & BLOOD comes out on November 20.   There are two sources for autographed copies of that one: preorder from the JCC, or attend the launch event in Jersey City on November 19, at Loew's Jersey in Journal Square.   We've sold more than a thousand tickets for that event and the rest are going fast, so act soon if you want to come.   The theatre is expecting a sellout.   Please note: personalizations and other inscriptions are not available either from the JCC or from Loew's, just straight signatures.   No use asking, I just can't personalize that many books, it would take forever.   Please understand.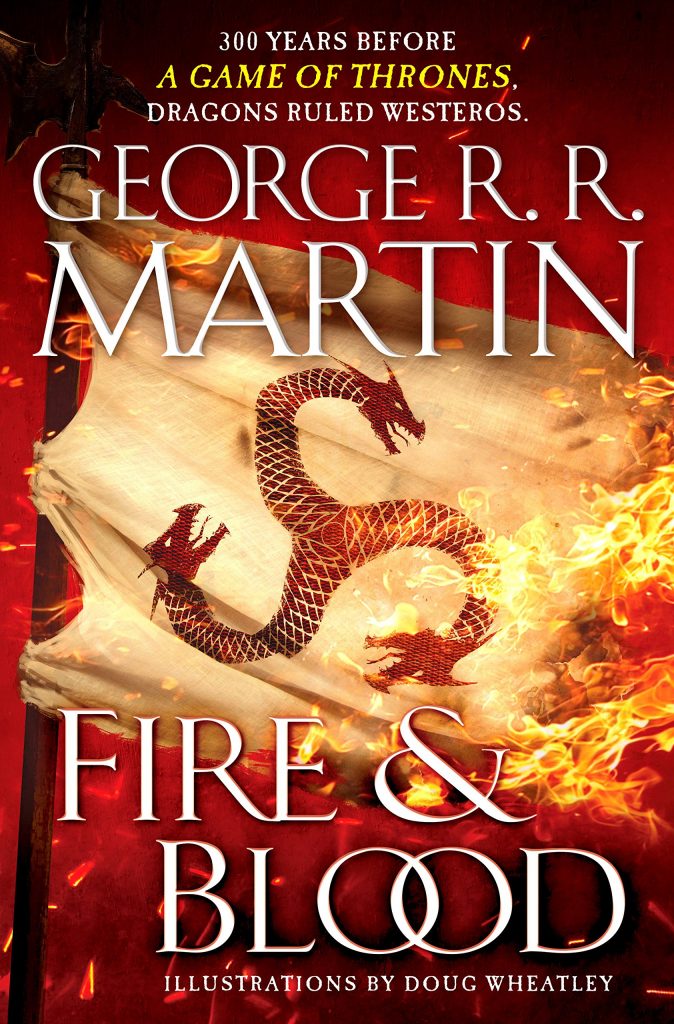 That's the cover of the trade hardcover from Bantam Spectra above, fyi; this is the edition that is being offered at Loew's and the JCC.
Many other editions will be coming out on November 20 as well, however.   Some cool covers on those as well.
Here's the cover for the Brazilian edition: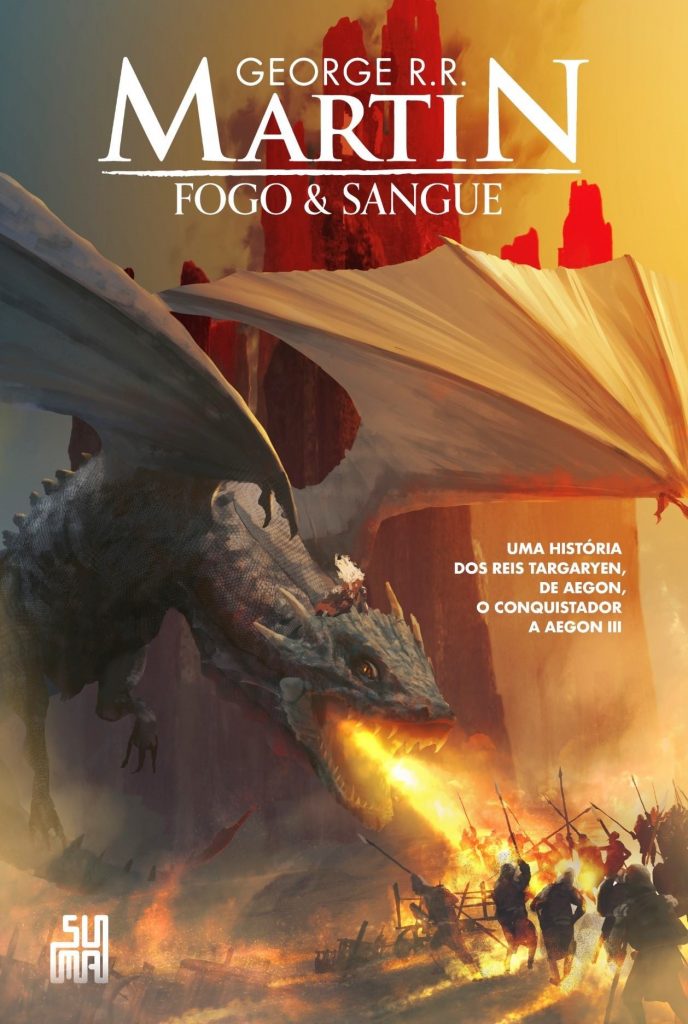 Here's the British cover for those of you in the UK, from Harper Collins Voyager: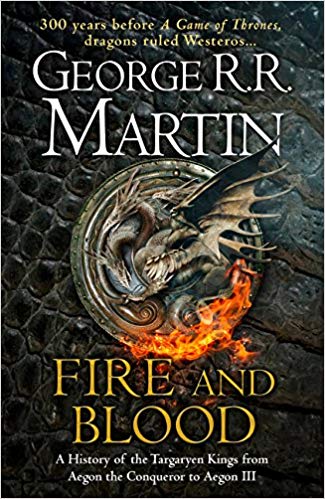 Here's the German edition:
And this one is the Gary Gianni cover, for the Subterranean Press limited edition: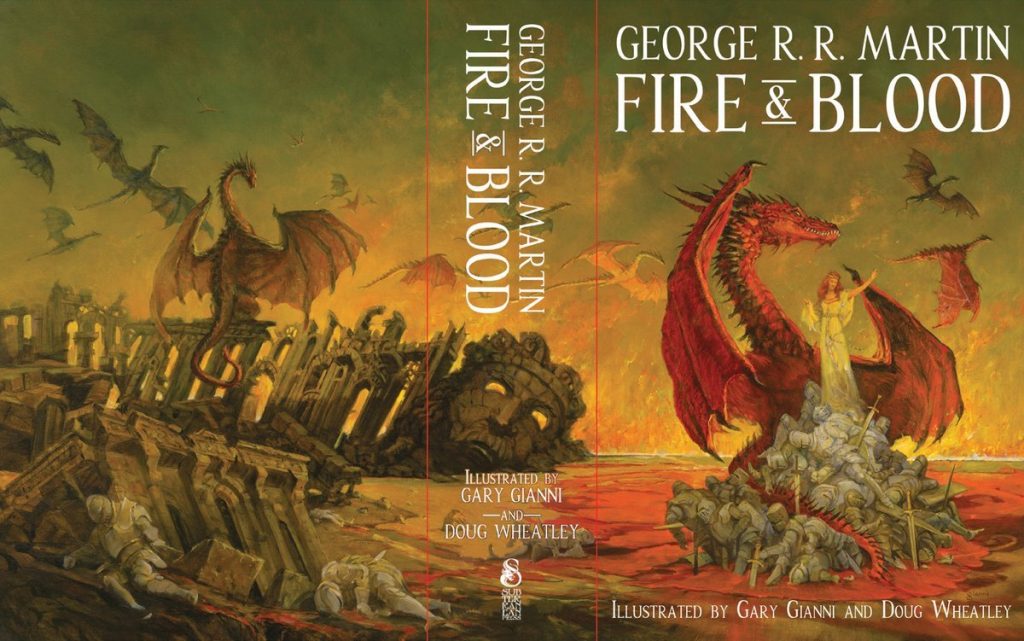 Speaking of the JCC… our November 12 NIGHTFLYERS premiere is now SOLD OUT, sorry.   We still have seats (and books) available for Lee Child on November 11 and Cixin Liu on November 14, however.  Reserve a book (and a place) now if you would like to attend, those two may sell out as well.
On other fronts… the Giants did not lose this week, because they did not play.  A mercy.   The Jets played, and lost.  Badly.   The score was close, but the game was painful to watch.   The defense played hard and looked good, as they have in several other games, but the offense could not move the ball, and our kid quarterback Sam Darnold threw four interceptions.   Darnold threw too many INTs in college, the biggest strike against him leading up to the draft, and he appears to be repeating that pattern in the NFL, which does not bode well for Gang Green's future.   I don't care how good a quarterback's arm may be, if he throws INTs he will kill you.  Nothing hurts worse than a turnover.   Darnold was hailed as the new Joe Namath, but I would have settled for a new Chad Pennington… Chad was deadly accurate, and did not throw INTs.   Sam needs to stop doing that, or the future will be as painful as the past.   Oh, and what the hell is going on with the center?  All those bad snaps… c'mon, coach, isn't there another center on the bench?  One who can deliver the snaps into Sam's hands rather than three feet over his head?
As for the G-Men, Eli is getting a lot of blame, but not all of it is deserved.  Look at his numbers.   He is still throwing for a lot of yards, and Odell and Saquon are both playing great.  Our other receivers cannot seem to catch the ball, however, even when Eli delivers it right into their hands.  And the O line, shockingly, impossibly, seems to playing even worse than last year.   No QB can perform well when he is being sacked on every drive.   There are too many stupid pre-snap penalties as well.   The Giants seem to start half their drives at 1st and 15th rather than 1st and 10.  That doesn't help.
Oh, I should also mention… HBO has informed me that the Jane Goldman pilot is not (yet) titled THE LONG NIGHT.   That's is certainly the title I prefer, but for the moment the pilot is still officially UNTITLED.  So… mea culpa, mea culpa, mea culpa.  Elsewise, the pilot is coming along well, with casting falling into place.   I could tell you more, but I am not supposed to.   We also have a couple of other successor shows still in development, but I cannot tell you about those either.   Sorry.   And some exciting things are happening with the Wild Cards television series, but I can't talk about those.   Nor can I say much about WHO FEARS DEATH, based on Nnedi Okorafor's wonderful novel.   Hush hush, it's Hollywood, they like news to come through officially approved channels out there.
That's all in television.  In feature films, one of my best known short stories is being developed, and another of my best known short stories may soon be under option for a big movie… and my team is doing its best to set up another of my novels with an actor I adore and a director I worship… but those are not yet ready to be talked about either, so all I can do is tease.   Consider yourselves teased.
I CAN plug the Meow Wolf documentary at least.   That will be opening on hundreds of screens nationwide by month's end, be sure to catch it if it turns up near you.   It tells the whole history of the crazy bunch of wild dreamers who call themselves Meow Wolf, and I turn up in there as well.
I better go.  Lots more to do today.   Believe it or not, I am working hard on a lot of things (yes, including WINDS), even though I am not allowed to talk about most of them.   Eventually, I hope, you'll all be able to enjoy the fruits of my labors.  I hope…
Current Mood:

busy