The Jokertown Mob is heading for San Antonio, along with Rubberband, Rustbelt, and the Amazing Bubbles.
And yes, they will be in your favorite bookstore TODAY.   It's publication day for TEXAS HOLD 'EM.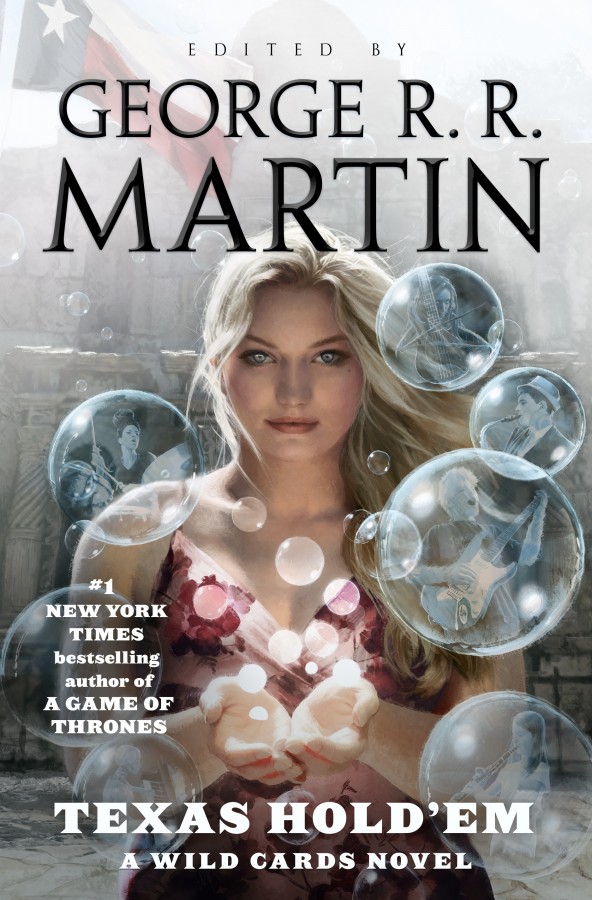 TEXAS HOLD 'EM is the final book in the America Triad, and the twenty-seventh volume of the overall series… but no, it's not necessary to have read the first twenty-six to enjoy this one.   It's a stand-alone, like MISSISSIPPI ROLL and LOW CHICAGO.   This one is lighter in tone than most Wild Cards books: a bit of a romp, if truth be told, blending Wild Cards action with a touch of screwball comedy.
The lineup this time:
Caroline Spector "Bubbles and the Band Trip"
Max Gladstone "The Secret Life of Rubberband"
William F. Wu "Jade Blossom's Brew"
Diana Rowland "Beats, Bugs, and Boys"
Walton Simons "Is Nobody Going to San Antone?"
Victor Milan "Dust and the Darkness"
David Anthony Durham "Drop City"
The spectacular cover is by Michael Komarck.
You can get TEXAS HOLD 'EM from your favorite local bookstore on online retailer.   If you would like to snag an autographed copy, we will have some available from the bookstore at the Jean Cocteau Cinema.   (The JCC also has autographed copies of many of the earlier Wild Cards books available, most of the signed not only by myself but by several contributors as well).
Current Mood:

pleased