Big week for Wild Cards, boys and girls.
We have a new post just up on the Wild Cards blog, this one by yours truly.   It was my turn in the barrel (we try to upload new content to the blog every two weeks, if not sooner), so I turned out a history of American Hero, our Wild Cards universe hit reality show — from its origins in the fevered imagination of Carrie Vaughn, through its epic first season as chronicled in Inside Straight, and on to the eight seasons that followed.   Lots of cool material there that has never been published before, even in the books themselves, so this is a bit of a peek behind the curtain.  I hope you'll enjoy it.  And while you're there, check out some of the other posts on the blog as well, they're all fascinating in their own ways.
www.wildcardsworld.com
Meanwhile, the official publication date of Wild Cards volume twenty-five, LOW CHICAGO was earlier this week.   Available right now from Amazon, B&N, your favorite online bookseller, or your local bookstore.   You can also order autographed copies from the Jean Cocteau Bookstore, though if you go that route you might have to wait a while to actually read the book, since it will be a few weeks until I have the chance to sign 'em.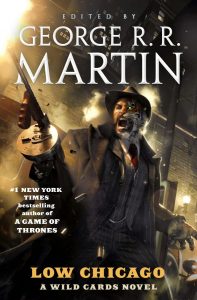 LOW CHICAGO has been getting some terrific pre-publication reviews… from BOOKLIST, from PUBLISHER'S WEEKLY, from KIRKUS.   Check them out, they're all on line.   And we're thrilled to hear that the Science Fiction Book Club will be featuring it as a main selection.   If you have never tried a Wild Cards book before, this is a great one to start with; it's a stand-alone, so you do not need to have read any of the preceding twenty-four volumes to enjoy it.  (Of course, many of those preceding twenty-four volumes are available, with autographs, from the Jean Cocteau, should this one pique your interest).  The participating writers this time around include seasoned WC veterans John Jos. Miller, Melinda M. Snodgrass, Mary Anne Mohanraj, Kevin Andrew Murphy, and Paul Cornell, and exciting newcomers (new to Wild Cards at least) Marko Kloos, Christopher Rowe, Saladin Ahmed.   That's Marko's new guy Khan on the cover; I like you're going to love him.
And of course, just a few weeks down the road, Voyager will be releasing the British edition of KNAVES OVER QUEENS, volume twenty-six in the series.  All new stories once again, and another terrific entry point to the series.
Oh, and there's lots of exciting stuff happening with the Wild Cards television series we have in development… but, alas, I cannot tell you about that yet, or I would have to kill you.
Current Mood:

bouncy