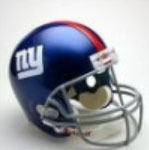 The NFL Draft is still weeks away, but already the talking heads on the sports shows are talking about little else.
I always follow the draft, but this year, for a change, I won't have to wait for four hours for my teams to make a pick.
The Giants were supposed to be Superbowl contenders last season.  Instead they finished 3-13, so they have the second overall pick in the draft.
The Jets were supposed to be really really really bad last season, go winless, and get the first overall pick.  Well, no, turns out they were just bad, not really really bad, so they got the sixth overall pick.  Last month, however, they made a trade with the Colts, gave up some picks, and move on up to #3… aiming for a quarterback, clearly.  This is supposed to be an unusually good quarterback class.
So my teams are picking second and third.  The hapless Cleveland Browns are first, where they usually are.  Also fourth.  So Gang Green and the G-Men are in a sort of Browns sandwich.
So… if I was  a GM (I'm not) or an owner, who would I pick?
Most of the mocks have Cleveland taking qb Sam Darnold with the first pick.   He's the highest rated of the four big quarterbacks that year.  Assuming Darnold is off the table, I am hoping the Giants take running back Saquon Barkley with the second pick.  Yes, lots of folks want Big Blue to grab Eli's successor, but I don't.  Eli still has some good years.  He's won us two Lombardi Trophies, I would rather see us build around him and make a run for a third than start rebuilding already.  Barkley is supposed to be a surefire Hall of Famer, a generational talent, better than Todd Gurley or Ezekial Elliott or any other RB to come out in the last decade… and gods know, Eli could benefit from a running game.   He hasn't had one since Ahmed Bradshaw moved on.
There's also a lot of talk that the Giants might trade down, and harvest a lot of extra picks from some team wanting to jump ahead of the Jets.  That would be okay too, provided (1) they get enough for it, and (2) they don't go any lower than #6.  Given the likely run on QBs at the top of the draft, if the G-Men stay at #6 higher, they can land either Barkley, the monster DE pass rusher Chubb, or the road grader guard out of Notre Dame, Nelson.  Any of those would be fine.  If they go down below #6, though, they could miss out on all three, and no amount of second- and third-rounders would make that worthwhile.
As for the Jets… they definitely need to take a quarterback at #3.   Which one, though?  Darnold will be gone, so the choice comes down to the two Joshs (Allen and Rosen), and Baker Mayfield out of Oklahoma.  I like Rosen, but he makes me nervous.  His injury history, especially the concussions, is worrisome.  The last thing the Jets need is another terrific, smart, accurate signal caller whose career is cut short by injuries.  Been there, done that.  See Pennington, Chad.  No, I'd take Baker Mayfield.  Yeah, he's "short" (six feet is short?), but he's accurate, he's fiery, he has "intangibles."  He reminds some people of Johnny Manziel, but that's wrong.  He's closer to Brett Favre.  I'll take that.  Broadway Baker… why the hell not?  Bake us A SuperBowl!  The Jets have been waiting since 1969.
((And no, if I were the Giants, I would NOT trade Odell.  I am already pissed that they traded JPP.  Didn't get enough for him either)).
((Comments welcome… on topic.  That means NFL football and the draft.  Off topic comments will be nuked)).
Current Mood:

thoughtful