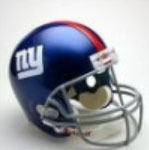 The NFL has wound up its regular season. Both of my teams had miserable years and are out of the playoffs. The Giants managed to win their final game, but thankfully the Colts won too, so the G-Men held on to the second overall pick in the draft. The Jets got crushed by the Pats, as usual.
Big Blue already has a new general manager and will be getting a new coach soon. I want a new Bill Parcells. Though I'd gladly take the old Bill Parcells if someone could coax him out of retirement. As for that draft pick, most of the mocks have the Giants taking a QB… but we still have Eli, and we don't even know what Davis Webb will be yet. I'd prefer to see them trade down for multiple picks, and maybe take that stud running back out of Penn State. Let Eli play another year and bring Webb along before bringing in another QB.
The Jets, on the other hand, should take Baker Mayfield if he's still on the board.
As for the playoffs, I don't much care. In the AFC, I will be rooting for whoever is playing against Evil Little Bill and the Pats. In the NFC, no strong preference, but maybe a slight inclination toward the Saints. Love the city of New Orleans, and Drew Brees has been a class act.
((Comments left open for football talk only))
Current Mood:

discontent