Here's some HAPPY news about the awards.
No, the the Hugos.
The Edgars.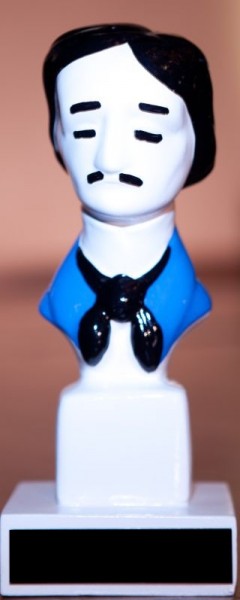 The winners were announced today: http://www.theedgars.com/nominees.html
I was very pleased to see Stephen King take home the Best Novel award for MR. MERCEDES. You want to talk about writers who have been shamefully overlooked by the Hugos? (And by the Nebulas and the World Fantasy Award too). Start with King. He's right up there with Gene Wolfe on my own list. The world thinks of him as a master of horror, and he is… but horror is also sometimes known as "dark fantasy," and King has written plenty of SF and even some high fantasy (EYES OF THE DRAGON, anyone? THE DARK TOWER) too. He's won the National Book Award, but he's never taken home a rocket or a rock. So it goes, I guess. But at least now he has the head of Edgar Allan Poe. Bravo!
But that wasn't all. Down in the Short Story category, I was thrilled to see that Gillian Flynn will be taking home Edgar for her story from ROGUES, "What Do You Do?" Well deserved! It was an amazing story, and Gardner Dozois and I are delighted that we had the honor of publishing it. I believe this is Gillian's first Edgar, but it won't be her last. She's a terrific writer, and a delight to work with.
Congratulations to all of this year's Edgar winners. I trust that winners and losers both enjoyed a night of celebration, free of rancor and politics and puppies.
(Maybe I should become a mystery writer).