Roger's son Trent, a fine writer in his own right, is organizing the event for us, and other members of Roger's family are also expected to attend, along with lots of us from the New Mexico science fiction community and Albuquerque fandom. I will be there, as will Jane Lindskold, Melinda Snodgrass, Walter Jon Williams, John Jos. Miller, and many many more. We have lots of folks coming in from out of town as well. Neil Gaiman is trying to make it, if his schedule allows. Joe Haldeman is flying in. So is Michael Cassutt. And many folks who cannot come to New Mexico in person will be Skyping in to join us, or sending video greetings and readings. Joe Lansdale, Steven Brust, Howard Waldrop, and others will be heard from.
We won't be showing DAMNATION ALLEY, no… but we may screen the trailer, just for hoots and giggles. We will have other films and videos, though. A slide show, maybe… so if you have some good pictures of Roger, send jpegs to me or Trent. Artwork too. Most of the evening will be taken up with readings from Roger's work: his poems, his stories, favorite passages from his books. We expect there will be tears; we hope there will be laughter too. And Roger's own voice will be heard: he recorded the Amber audiobooks himself, and we hope to play some of that.
The evening's final offering will be a play. If you're read my memorial, above, you'll know that one of the last things Roger ever completed was a short musical play called GODSON. He read it aloud in my living room a few weeks before he died, but to my knowledge it has never been staged or performed. Until now.
GODSON will have its long LONG awaited premiere on the stage of the Jean Cocteau on May 31. Its the story of what happens when Death adopts a child, and it's pure Roger. We are in rehearsal now. Advance tickets for the evening will be on sale shortly; watch this space for announcements. All box office proceeds will be split with the Zelazny family and the actors and director who are bringing us GODSON. The Cocteau has only 130 seats, so if you want to be part of this, do not hesitate when tickets are made available. This is a one-time only event. (Though we would consider further performances of GODSON if the play is well received and there seems to be sufficient demand. Roger would like that, I am sure).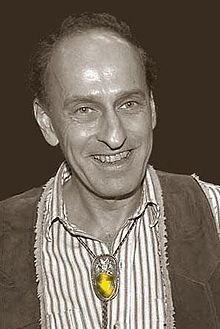 If you knew Roger, or even if you only knew his work, and you would like to help or be a part of this, please get in touch with Trent Z at trentzelazny@juno.com
We want to make this an evening worthy of one of greatest science fiction writers who ever lived.