The Emmy Awards are starting off nicely for GAME OF THRONES this year, and fabulously for HBO.
In the Creative Arts Awards given on Sunday (sometimes called the 'technical Emmys'), GAME OF THRONES took two awards.
In Outstanding Special Visual Effects, GOT beat out DEFIANCE, FALLING SKIES, HEMLOCK GROVE, and BATTLESTAR GALACTICA: BLOOD & CHROME. Our Emmy winners were
For Outstanding Makeup For A Single-Camera Series (Non-Prosthetic), the series finished on top of BOARDWALK EMPIRE, THE BORGIAS, GLEE, MAD MEN, and ONCE UPON A TIME. They won for the episode "Kissed By Fire." The Emmys went to Paul Engelen (Department Head Makeup Artist), Melissa Lackersteen ( Key Makeup Artist), Daniel Lawson Johnston ( Makeup Artist), and Martina Byrne (Makeup Artist).
My heartfelt congratulations to our world-class SFX team and makeup artists. Well deserved.
It takes a lot of people to make a quality show, and the craftsmen and artists who do all the 'below the line' jobs contribute just as much as the 'above the line' talent like the directors, actors, and writers, though they seldom receive the recognition they deserve. So hats off to our terrific crew… not only Sunday's winners, but also all the other nominees from GAME OF THRONES, who lost out to other worthy shows. (You wuz robbed, as we used to say in Bayonne)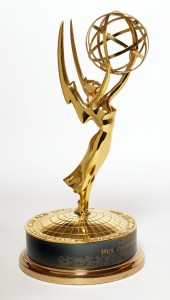 HBO as a whole did even better, completely dominating the awards with 20 wins, way more than any other network. CBS was a distant second with 15, and the totals plunged sharply after that.
For a full list of the winners and nominees:
http://www.hitfix.com/news/creative-arts-emmys-2013-complete-winners-list/1
http://www.eonline.com/news/459135/creative-arts-emmys-2013-complete-list-of-winners
Current Mood:
null