Music: Those Were the Days
Gardner Dozois and I have just learned that Bantam has scheduled our all-original retro-SF anthology OLD MARS for release on October 8 of this year. The anthology will feature fifteen original, never-before-published short stories and novelettes about Mars, story notes and author intros by Gardner, and an introduction by yours truly.
The setting will NOT be the real (but somewhat boring) post-Mariner Mars, but rather the Mars thatwe all loved as kids, the one with the canals and the dead cities and the myriad marvelous Martians.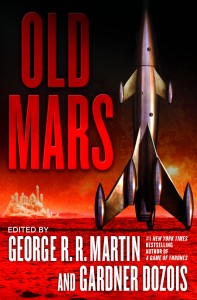 ((Gotta love that retro rocket ship. I sure do)).
Here's the lineup of stories and contributors:
RED PLANET BLUES (Introduction) by George R.R. Martin
MARTIAN BLOOD, by Allen M. Steele
THE UGLY DUCKLING, by Matthew Hughes
THE WRECK OF THE MARS ADVENTURE, by David D. Levine
SWORDS OF ZAR-TU-KAN, by S.M. Stirling
SHOALS, by Mary Rosenblum
IN THE TOMBS OF THE MARTIAN KINGS, by Mike Resnick
OUT OF SCARLIGHT, by Liz Williams
THE DEAD SEA-BOTTOM SCROLLS, by Howard Waldrop
A MAN WITHOUT HONOR, by James S.A. Corey
WRITTEN IN DUST, by Melinda Snodgrass
THE LOST CANAL, by Michael Moorcock
THE SUNSTONE, by Phyllis Eisenstein
KING OF THE CHEAP ROMANCE, by Joe R. Lansdale
MARINER, by Chris Roberson
THE QUEEN OF NIGHT'S ARIA, by Ian McDonald
!ƒ
Gargoo and I had a lot of fun putting this one together, and I hope you folks will have as much fun reading it. So circle October 8 on your calendars. Old Mars is lovely in the fall.
Current Mood:
null