Coming in March… a new TV tie-in edition of A GAME OF THRONES for season three.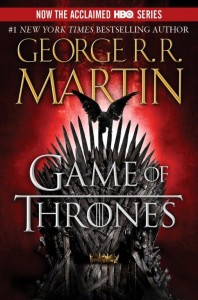 The new cover will be available on both mass market and trade paperback formats, I believe. Maybe on a hardcover reprint as well, though I am less sure of that. When I know for certain, I will pass along the info here.
FURTHER INFO. Ok, got a clarification. This new artwork will appear on the paperbacks, both mass market and trade. The hardcover will retain its present cover. Also, a repackage of A STORM OF SWORDS is also in the works, and will feature key art from the HBO series. I will post that here when it's ready.
Current Mood:
null