Actually, TWO heads would be even better.
It occurs to me that I have been so busy lately that I have not yet gotten around to announcing that (1) A DANCE WITH DRAGONS has been nominated for the World Fantasy Award in the "Best Novel" category, and (2) the World Fantasy Award jury has also selected me as one of the winners of their Lifetime Achievement Award this year.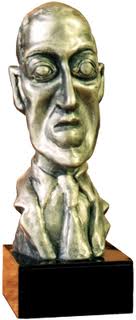 The World Fantasy Award is one of the more complicated honors in our field. Here's how it works. A five-person jury is selected. The members of the previous World Fantasy Con and the upcoming World Fantasy Con receive a nominating ballot, and nominate two finalists in each award category. The jury adds three additional nominees. Then the jury selects the winner from among the five finalists.
This year's finalists for Best Novel are:
!¢ THOSE ACROSS THE RIVER, Christopher Buehlman (Ace)
!¢ 11/22/63, Stephen King (Scribner; Hodder & Stoughton as 11.22.63)
!¢ A DANCE WITH DRAGONS, George R.R. Martin (Bantam; Harper Voyager UK)
!¢ OSAMA, Lavie Tidhar (PS Publishing)
!¢ AMONG OTHERS, Jo Walton (Tor)
A very distinguished list. My congratulations to all the other finalists.
The rest of the ballot can be found here:
http://www.wfc2012.org/pr-wfawards01.html
The Lifetime Achievement Award is a different deal. That one is announced ahead of time. I was rather startled to learn that the jury had announced ME. After all, my lifetime is not nearly over, and I have lots more achieving ahead of me, I hope… (unless the World Fantasy Award knows something that I do not). I am such a young lad, and devilishly handsome as well.
However, it is a HUGE honor, and I am very thrilled to receive it… especially as the jury also named Alan Garner as the other Lifetime Achievement receipient. If you don't know Garner's work, well… you should, damn you. He's the author of THE OWL SERVICE and THE WEIRDSTONES OF BRISINGAMEN and ELIDOR and all sorts of other great stuff, and was writing terrific fantasies long before fantasy was either popular or fashionable. It's great to see Garner get some long overdue recognition for his contributions to our genre. Now I'd love to see someone put all his books back into print again.
Past receipients of the Life Achievement award include Ray Bradbury, Ursula K. Le Guin, Theodore Sturgeon, Richard Matheson, Jack Vance, Jack Williamson, Stephen King, Fritz Leiber, Gene Wolfe, and many of my other heroes and role models, so I am going to be in very good company indeed with this one.
The awards will be presented at this year's World Fantasy Convention in Toronto over Halloween weekend. Alas, I do not think I will be able to attend. My schedule is already pretty full for the rest of 2012, and this one came on me unexpectedly. (Also, I just appeared in Toronto early in the year). But I am sure it will be a great con.
(I do have one of Howard's heads already, for my werewolf novella "The Skin Trade" from way back when. He proudly wears a Jets cap).
Current Mood:
null