Just got word from Bill Schafer at Subterranean Press — Marc Fishman has delivered the last of his artwork for their limited, illustrated edition of A DANCE WITH DRAGONS. Some 90 interior illustrations as well as the two covers and the other full-color plates.
Here's a look at one of the covers: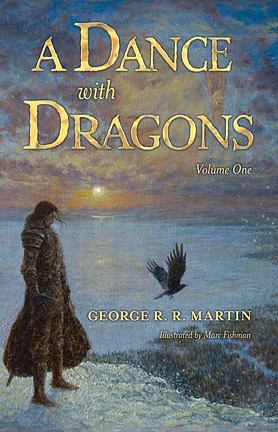 The text is now being proofed, the artwork is all in the hands of Subterranean's book designer, and Bill hopes to go to press in about six weeks. Accordingly, he has announced the edition and made it available for purchase (for those with "rights") on the SubPress website, here:
http://www.subterraneanpress.com/Merchant2/merchant.mv?Screen=PROD&Product_Code=martin09&Category_Code=PRE&Product_Count=18
Those who purchased the limited (numbered or lettered) of A FEAST FOR CROWS have first right of purchase for DANCE, and will have until the end of September to place their orders.
After that date, any unsold copies will be made available on a first-come, first-served basis to readers new to the series. Subterranean does NOT maintain a waiting list, so you can't order now unless you are already one of the subscribers to the series. But there are always dropouts, so some copies should be available to newcomers. Not many, no, but some. If you hope to snag one of those, your best bet is to subscribe to Subterranean's online newsletter, since that's where their availability will be announced, come October. (And if and when you see such an announcement, ACT AT ONCE, or you'll be shut out by those who do).
As with previous volumes in the series, the Subterranean edition of A DANCE WITH DRAGONS will be limited to 448 numbered and 52 lettered copies, slipcased, and signed by me and by artist Marc Fishman. The lettered copies will also include remarques by Fishman.
I have only seen a small portion of the art myself at this point, but I'm eager to have a look at the rest. Fishman is a major talent, and I don't doubt that his vision of Westeros will stand right up there with the work of Jeff Jones, John Howe, Tom Canty, and Charles Vess on the first four books.
Current Mood:
null