Pat of Pat's Fantasy Hotlist runs good contests, evil Dallas Cowboys fan that he is. Right now he's giving away five sets of the first two books in our current Wild Cards triad, INSIDE STRAIGHT and BUSTED FLUSH.
Check out the details at http://fantasyhotlist.blogspot.com/2009/11/win-set-of-wild-cards-novels.html
Meanwhile, Tor has scheduled the release of SUICIDE KINGS, the third and concluding volume of the Committee triad, for December 22.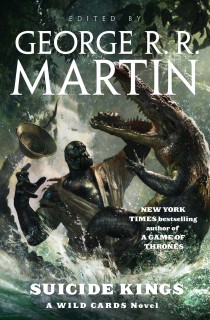 The contributing writers for this one are Ian Tregillis, Caroline Spector, Melinda Snodgrass, Victor Milan, S.L. Farrell, and Daniel Abraham.
Rustbelt, the Amazing Bubbles, Double Helix, the Radical, Gardener, and Jonathan (Bugsy) Hive provide the threads for our tapestry in this tale of love, war, revenge, and madness in the heart of darkness… but other Wild Cards favorites will also appear, including Cameo, Hoodoo Mama, Lohengrin, Dr. Finn, Popinjay, and many more. Not to mention the usual host of new characters, in parts both large and small.
So draw an ace for Xmas, and give Wild Cards a try. You won't be sorry.
Current Mood:
null