An Announcement brought to you by the Minions of Fevre River:
Last year, Disruptor Beam developed Game of Thrones Ascent for the Web, and several million players—comprising thousands of alliances–have joined the conflict in Westeros.
Today, Disruptor Beam just launched a new version of the game for iPad.
If you haven't tried the game since it first came out, it's worth checking out again now. Many features have been added, like forming alliances with other players for large-scale battles—not to mention a huge amount of content, items and artwork. If you're brand new, then you're in for a treat: the iPad version is a big improvement over the Web version, with crisp graphics and an overhauled touchscreen interface. As Season 4 airs, the game will also feature weekly updates based on the events you watch on HBO.
Disruptor Beam tells me that an Android tablet version will also be available in several weeks. For those of you with an iPad, you can download it today by following this link: https://itunes.apple.com/us/app/game-of-thrones-ascent/id799145075?ls=1&mt=8
You can also get more information about all the versions of the game on Disruptor Beam's website: http://disruptorbeam.com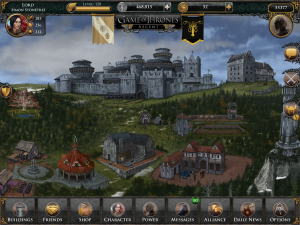 An Announcement brought to you by the Minions of Fevre River-
Current Mood:
null