((No, no, not the Iron Throne.   An entirely different throne, on an entirely different world.   There are lots of worlds, you know.   Lots of books.   Lots of thrones)).
The queen is dead.   Long live the king.
Ah… but which king?   Charles III, you say?   Well, maybe in this world.   But not in the world of the Wild Cards, which diverged from our own reality on September 15, 1946, when Jetboy died in the skies over Manhattan.   History was never the same.
Elizabeth II never took the throne of the United Kingdom in that world.   It was her younger sister Margaret who ascended after the passing of their father, King George VI, and it is Queen Margaret I whose long reign has just come to an end there.   Her eldest son is about to succeed her as King Henry IX… but his younger brother has his own designs on the crown, and dreams of being Richard IV… and if the whispers can be believed, there may be another claimant as well, a joker prince hidden away for half a century.
Who will claim the throne?  To find out you'll need to check out THREE KINGS, volume twenty-nine in the Wild Cards series (but have no fear, you do not need to read the first twenty-eight to enjoy this one).  Tor is releasing the trade paperback edition today, and you will find it at your local bookstore or your favorite online bookseller.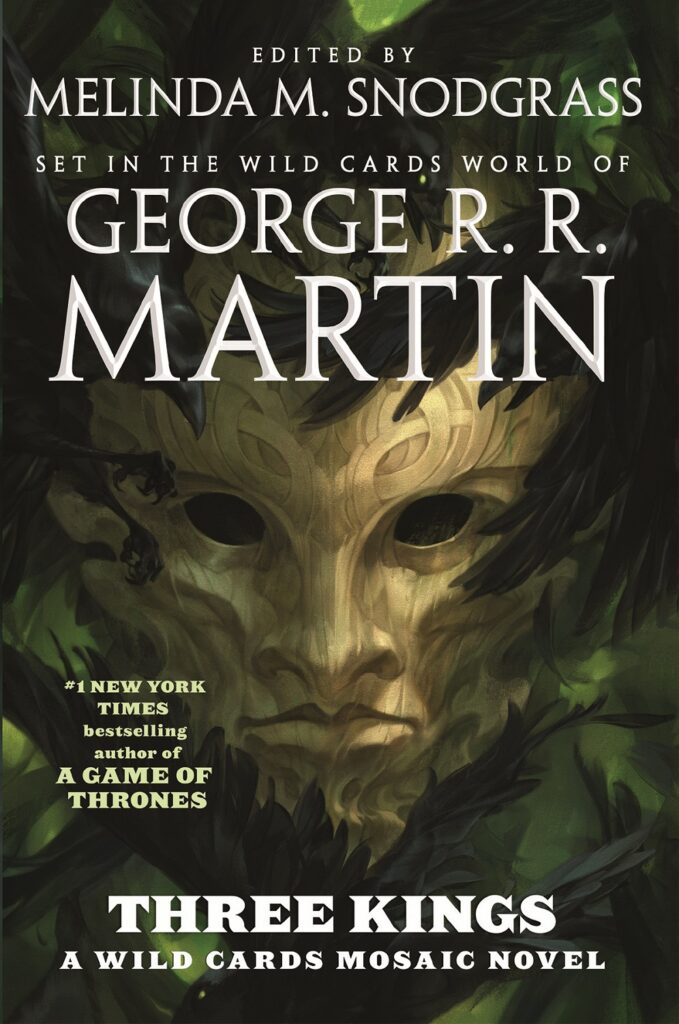 (
Melinda M. Snodgrass stepped up as editor this time around… no easy task, as THREE KINGS is a mosaic novel, with the storylines interwoven from start to finish.   The writing team consisted of Melinda herself, Peter Newman, Mary Ann Mohanraj, Peadar O Guilin, and Caroline Spector.   Featured characters included Double Helix, the Green Man, Badh, the Seamstress, Enigma, and the aforementioned three wannabee kings.   Yours truly was the assistant editor.
Some of you like signed books, I know.   Have no fear: we will have them soon at Beastly Books in Santa Fe, autographed by both of the editors, Melinda and yours truly.   The other signatures you'll need to run down yourself.   You can place your orders with Beastly at https://www.beastlybooks.com/
Beastly Books has signed copies of all the other Wild Cards books as well… along with autographed editions (hardcovers and paperbacks both) of that other series of mine, the one where the throne is made of iron.   (Queen Elizabeth II visited our GOT set in Belfast once, and declined to sit in it.   Smart woman.   That thing is dangerous.  All those rusty old swords.  You could cut yourself).
Current Mood:

busy