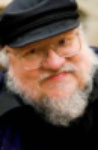 Too much to do, too much to do.
Things are hopping, as my frogs told you down below.   I could be writing long posts here about a dozen things, but I am sure most of you would sooner I were writing fiction, producing films and television shows, editing anthologies.   Y'know.
But let me say a few quick words about matters various and sundry.
We have a new book coming out from Ten Speed in October: THE RISE OF THE DRAGON, an illustrated history of the Targaryen dynasty from Aegon the Conquerer to the regency of the boy king Aegon III.   I could show you the covers (British and American) but my mighty minions have already done that in the post below.   Just scroll down and enjoy.   The official announcement lays out the basic facts about the book as well, so I won't repeat that here.   I just want to clear up a possible areas of confusion.   In my blog post of 3/9 (scroll further down), I made mention of "a lavish coffee table book coming later this year, an illustrated, condensed version of FIRE & BLOOD done with Elio Garcia and Linda Antonsson (my partners on THE WORLD OF ICE AND FIRE)."   Yes, I was speaking of THE RISE OF THE DRAGON.   The same book.    There has been some mention of RISE being an "encyclopedia," but I do not think that is accurate… not unless the definition of "encyclopedia" has broadened considerably.   It's a history… covering the same years and events as FIRE & BLOOD… but not written "in world" by Archmaester Gyldayn, and much condensed  from Gyldayn's original text.   My friends Elio Garcia and Linda Antonsson of WORLD OF ICE & FIRE fame handled the abridgement.
We needed a shorter book to make room for all the art.   That's the big thing about THE RISE OF THE DRAGON:  it's not an encyclopedia, it's an art book.   And a gorgeous one, I think.   RISE will include 180 brand new illustrations from some of the finest fantasy artists in the world.   Some of them will be full page.   Many will be in gorgeous living (and dying) colors.   Dragons, knights, battles, lords and ladies, castles… all the good stuff.    So if you're a fan of fantasy art, you may want to pre-order your copy now.
The other book  mentioned in that post of 3/9, the Who's Who of Westeros, is coming as well, but not this fall.   That one is a way off.   Might be a year or two.   Lot of work to be done.   (As my editors complain, it is hard to do a who's who when I keep inventing characters).
There will be a second book coming out this year, to tie in with the debut of HOUSE OF THE DRAGON.   But it won't be a new book, just an old one with a new cover.   That's FIRE & BLOOD, of course, the original (unabridged) version by Archmaester Gyldayn, with new cover art from the HBO series.   When I have seen the new cover, I will be sure to post it here.
Oh, and as long as I am setting stuff straight, there's a weird story all over the internet about how I "hid" my initials in ELDEN RING because… ah.. some of the characters have names beginning with R, or G, or M.   To which I say, "Eh?  What?  Really?"   This was news to me.    I have been writing and publishing stories since 1971, and I suspect that I have been giving characters names beginning with R and G and M since the start.   Along with the other twenty-three letters of the alphabet as well    Coming up with names is hard, especially since A SONG OF ICE & FIRE uses so many of them, and I am fond of giving family members and close kin names that have something in common… but really, why would I have to hide my name inside the game?   My name is right there ON the game, as one of the creators.    Hey, ELDEN RING is exciting enough, no need to make up stuff.
Let me see, what else?   Oh, I should mention that Sky Railway has reopened for its spring season, Santa Fe to Lamy, with all sorts of fun new adventures.   Check out the website at https://skyrailway.com/ and book your adventure now, if you're coming to Santa Fe.    We are selling out.
Many of you reading this are fantasy fans, I know.   Waiting for WINDS OF WINTER, I know, I know… but looking forward to the new TV shows as well.  RINGS OF POWER on September 2, and HOUSE OF THE DRAGON on… well, you will know soon.   It's only March, though.   What should you watch in the meanwhile?  I recommend THE LAST KINGDOM, based on Bernard Cornwell's Saxon tales of Uhtred son of Uhtred.   The new season just went up, and Parris and I gulped it down in two days.   No, it is not fantasy, there is a notable lack of dragons and magic… but there are lots of battles and betrayals and swordplay, all that stuff.   And Uhtred is a warrior who could give the best of Westeros and Middle Earth a fight.   A good show, and we will miss it… but we have a feature film to look forward too, at least… and Cornwell has a new Sharpe book out too
There's more, but I have other stuff to do, so I will sign off for now.   The horns are blowing, the frogs are hopping.
Current Mood:

busy