Our friend Janis Ian was in Santa Fe last week, at the Jean Cocteau Cinema.   It was the first stop of her new tour.  She did three shows for us (Thursday, Friday, and Saturday nights, all sold out), and on Sunday she conducted a Master Class for aspiring songwriters.   Janis, of course, is among the greatest singer/ songwriters of her generation (which also happens to be my generation), and has been for half a century.   She's been a star since she was fifteen, and her music, new and old, has never failed to move me.   ("Seventeen" is, of course, the song she is best known for, but she has others that are just as powerful, and her new stuff… she is touring to promote her new album… is just terrific as well.
Janis has played at the Jean Cocteau before, though not for a few years.  (Covid, y'know).   It was an honor to have her back.
Especially since this is going to be her last North American tour.  (She has a European tour coming up).   But that will be it, she tells us.   She will continue to write and sing, of course… music is her life, as writing is mine, and neither one of us can really comprehend the idea of "retirement."   Whatever that is.   But touring is another matter, especially when the tours are as long as hers are.
So if you're a Janis Ian fan, this may be your last chance to see her live.   Don't blow it.   Santa Fe was the first stop of her farewell tour, but far from the last.   She left on Sunday for Tuscon, and after that… well, take a look.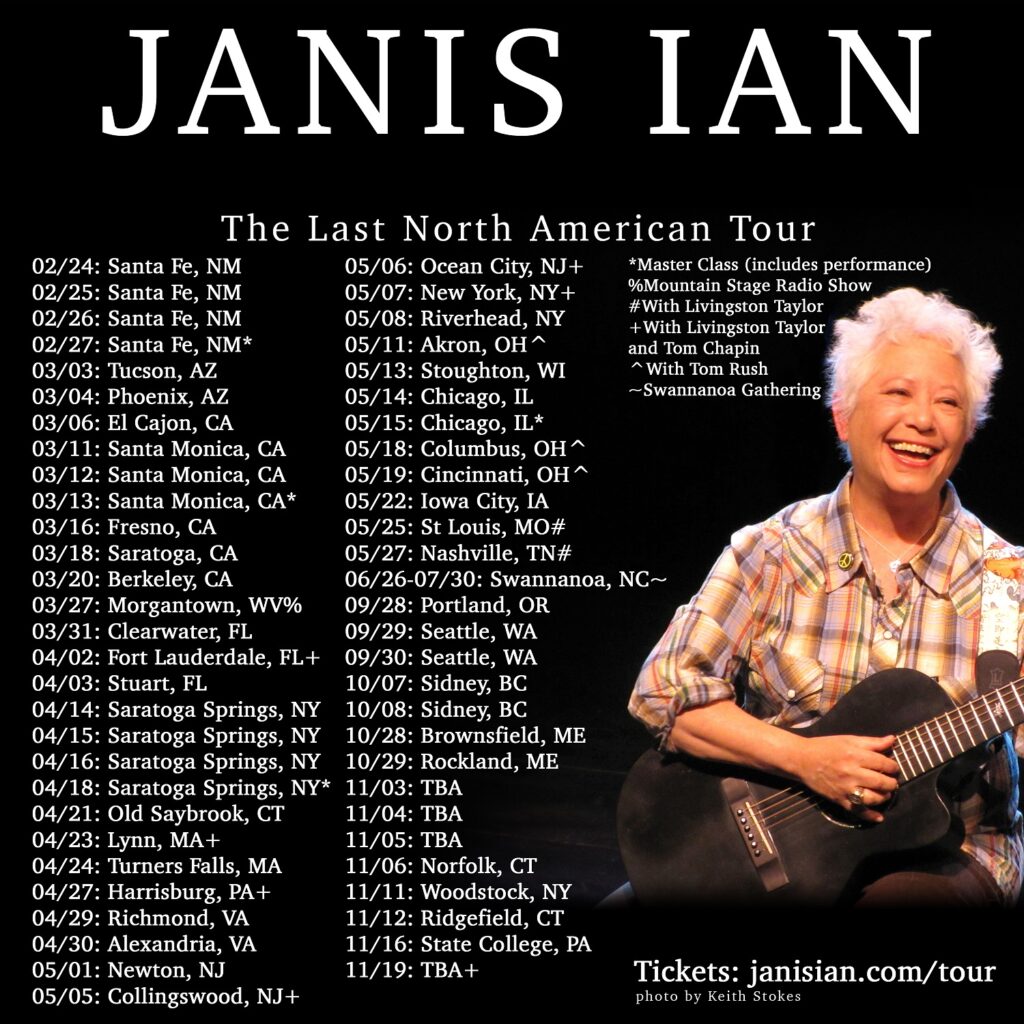 All four of her appearances in Santa Fe were sold out, and I believe many of her other dates are as well.   Not all, though, at least not yet.   If you'd like to catch a show, pop over to her website and grab some tickets ASAP.   You won't be sorry.   Janis is a wonderful performer, a really nice person… and, as it happens, also a fan of science fiction and fantasy.   (I had loved  her music since the 70s, but the first time we met was at a worldcon).
Last week marked the end of another era as well.  Janis Ian not only opened her farewell tour… but she also closed the Jean Cocteau Cinema.   Her Master Class on Sunday was the last scheduled event at the theatre.   On Monday morning we shut our doors.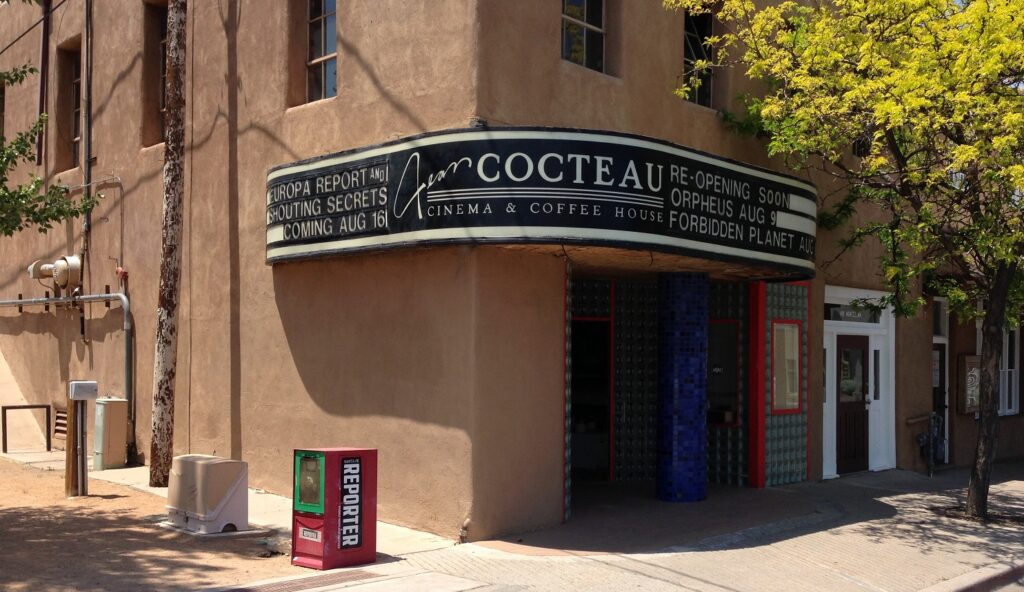 The JCC was Santa Fe's original art house.   It opened in 1976 as the Collective Fantasy, and became the Jean Cocteau in 1982 after a change of ownership and a major renovation that gave the space its present configuration and its present name.   During the decades that followed, it remained the City Different's most beloved movie theatre, famous for its eclectic offerings and its popcorn (best in town!  with real butter!!).   After several changes of ownership, it became part of the TransLux chain… but TransLux closed all its movie houses in 2006, and for seven years the JCC went dark… until I bought it in 2013.   We installed a new screen, new sound, digital projection (though we kept the old 35mm projectors as well), did a top to bottom renovation of the lobby, and turned a broom closet into our award-winning bar.
The theatre reopened in August 2013, with a bill that featured FORBIDDEN PLANET (best SF movie ever made), John Carpenter's DARK STAR, and a classic from its namesake, Jean Cocteau.   In the years that followed, we have hosted all sorts of events: live music, magic, burlesque, author events and readings, and films of all sorts, old and new, Hollywood  and Bollywood, huge blockbusters and small art house movies.   All accompanied by our award-winning custom cocktails, draft beers, and of course our popcorn.
Movie theatres all across America closed with the coming of Covid-19 in March 2020, and the Jean Cocteau was no exception.   We shut down for the remainder of that year, and for most of 2021 as well, reopening a few times late in the year for special events when the vaccines and social distancing started to put a dent in the virus.
And now we are closing again…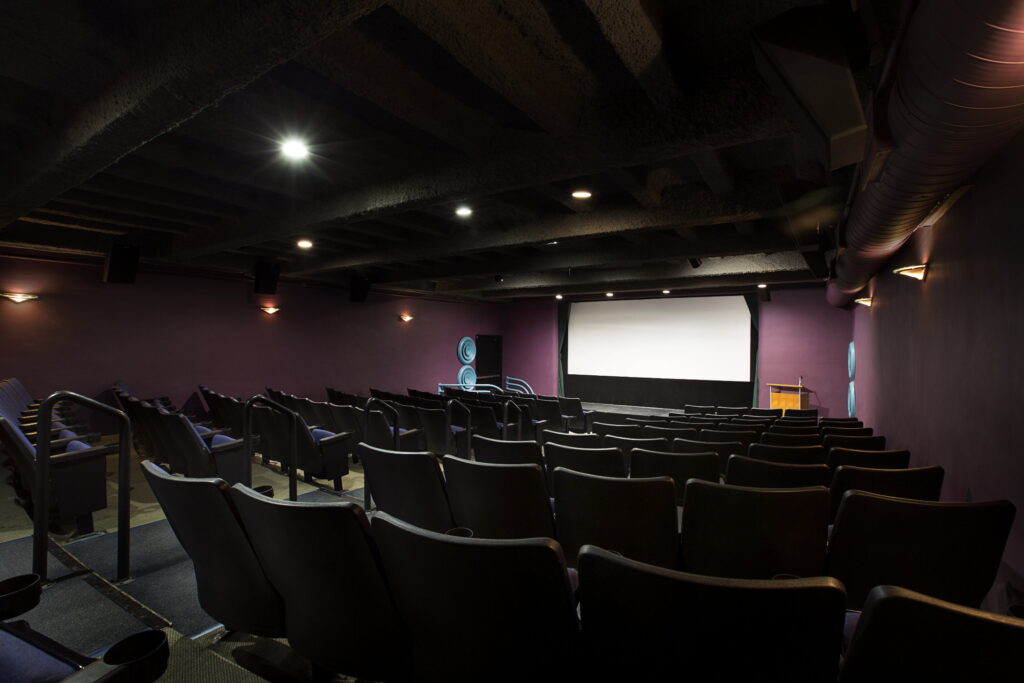 … but not forever!
The Jean Cocteau will be back.
It was time for another renovation.   We did a lot of work back in 2013, but that was nine years ago.
This time our focus is on the audtitorium.   (Above).   Say goodbye to those tired old blue seats, that tattered and soiled carpet, and that huge center aisle that took up so much room where the best seats in the house should have been.   We have all new seats coming in, larger and more comfortable.   Two side aisles instead of the big center aisle.   A new ceiling, a new floor.
The renovations will cost us a few seats.  The old Cocteau could seat 130.  After renovations, our capacity will be down to 80… but truth be told, very few of our offerings ever drew 130 patrons (Janis Ian, Neil Gaiman, and GAME OF THRONES premieres excepted).   And the new seats will offer more comfort and a better viewing experience for however many patrons turn up.
The popcorn will still be great, I promise.
So watch this space for news of our reopening in a few months time.
It's the end of an era… but the beginning of a new one.
((I will open comments for this post, but ONLY for messages about Janis Ian, the Jean Cocteau Cinema, and old movie theatres in general.   Off topic posts will be deleted,)).
Current Mood:

contemplative