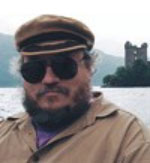 I was saddened to read (somewhat belatedly) of the death of Jerry Jeff Walker.
While I never had a chance to listen to Jerry Jeff perform in person, I always liked his music… going all the way back to the 70s, when I first discovered him.   (Yes, I do like country, especially the sort that used to be called "outlaw" country, as performed by the likes of Willie Nelson, Townes van Zandt, Kinky Friedman, and Kris Kristofferson, all favorites).
Even if you don't listen to country, you probably know one of Walker's songs: "Mr Bojangles," which was a hit for the Nitty Gritty Dirt Band, and has been covered by many others.
Here's another of my favorites from Jerry Jeff.
Current Mood:

melancholy