Leonard Maltin, a legend among film critics, and his daughter Jessie Maltin were in Santa Fe last week, for a visit to the Jean Cocteau Cinema.   I taped a segment with Leonard for his podcast, and afterward Leonard and Jessie did a talk, a Q&A, and a booksigning at the theatre.  Great fun.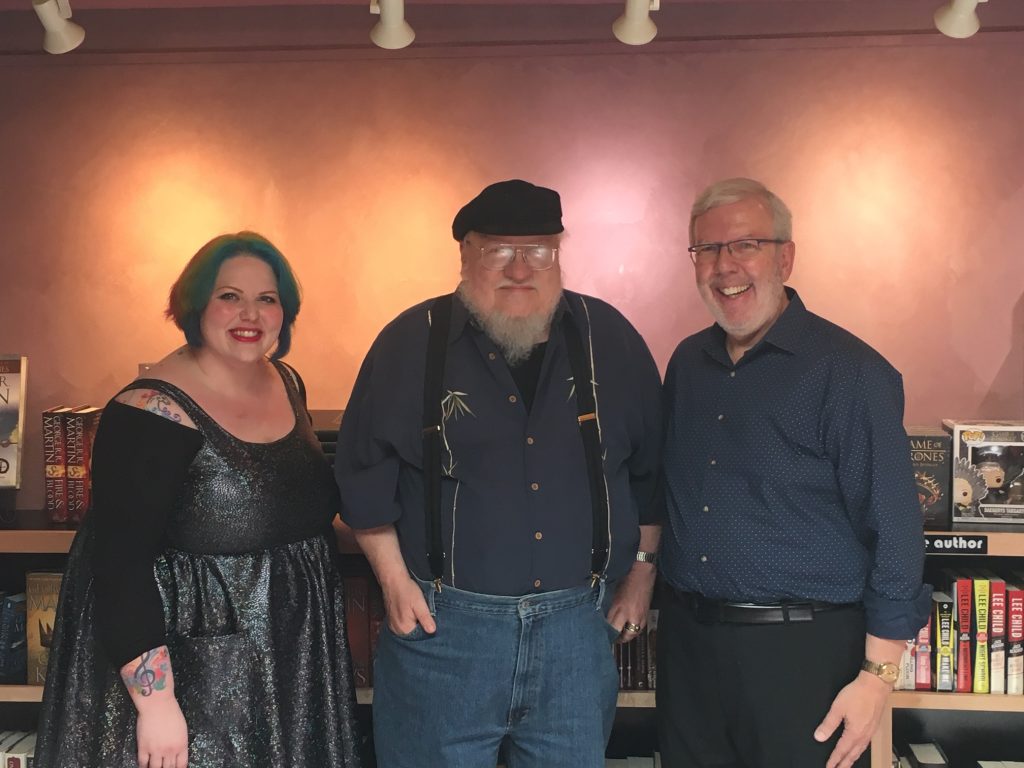 We discovered that Leonard and I sprang from the same roots.   We were both Jersey boys who got involved in fanzine fandom at an early age.   While I was writing superhero stories (Manta Ray!  Dr. Weird!  Garizan the Mechanical Warrior!!!) for the comic fanzines of the 60s, he started his own film fanzine.
You can hear our whole conversation on his podcast, Maltin On Movies http://maltinonmovies.libsyn.com/george-rr-martin
Leonard also blogged about his fanzine days and his visit to the JCC.   You can read the full text here:
We filmed the talk by Leonard and Jessie as well, and will be uploading that to the JCC website soon.
Meanwhile, for all you Leonard Maltin fans out there, we have autographed copies of four of his books available from the Jean Cocteau website — along with signed books by Alan Brennert, Neil Gaiman, Lee Child, Marlon James, John Hodgman, Lisa See, Diana Gabaldon, Carrie Vaughn, Melinda Snodgrass, Robert Jackson Bennett, Rebecca Roanhorse, Daniel Abraham, and many many more… along with yours truly.  Check out the full listings at:
https://jeancocteaucinema.com/shop/
Current Mood:

geeky