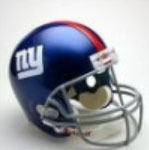 It is offseason for the NFL.  The combine is done, and free agency is about to open.
The Jets should be well positioned to be big players in free agency.   They have more than $100 million in salary cap space, more than any other team except the Indianapolis Colts.   They also have the third pick in April's draft, which should allow them to add a monster edge rusher to the defense.   That is, assuming they pick the right one.   The last time they tried, they got Vernon Gholston.  Let's hope they pick better this time.   They could also trade down to pick up more picks, but unless someone makes them an offer too good to refuse, I would rather they didn't.
The Giants pick sixth, and all the mocks have them drafting Dwayne Haskins of Ohio State, a quarterback to succeed Eli Manning.  Unless someone vaults ahead of them to snatch Haskins before he falls to Big Blue, which could happen.   But I am not in favor of the G-Men giving up a king's ransom just to move up a few slots.   They have too many other needs.
And more needs every day, it seems.  They just let Landon Collins, their all-pro strong safety, leave as a free agent rather than using the franchise tag to keep him.   It's inexplicable to me.   Jerry Reese, the former Giants GM, drafted a lot of busts during his tenure, the big reason he was let go… but Collins was one of the ones he got right.  He's been a great player for the Giants, a key part of their defense.   Seems to me that you build around your best players, you don't just let them walk, but maybe the Giants know something I don't.   If they did not have the bucks to make Collins a long term deal, at least they could have franchised him and traded him.   Gotten something back, at least.   By letting him walk they get nothing… except the dubious pleasure of watching him excel for some other team next season.
This comes on the heels of two puzzling trades the Giants made during the season.   They traded Eli Apple, one of their starting cornerbacks, to the Saints for fourth and seventh round picks, and they traded Damon 'Snacks' Harrison to the Lions for a fifth rounder.   Snacks was a huge presence in the middle of their D-line, one of the best run stoppers in the league.  Once he was gone, teams just started running up the gut on the Giants, gashing them again and again for solid gains.   It was painful to watch.   As for Apple, he was a first round draft choice, but he never lived up to that.   At best he was a good/ adequate cornerback; drafted that high, he should have been a great one.  So, okay, he was a disappointment.   But even so, he was better than the players who replaced him.   And now you have to wonder, can the Giants possibly find a cornerback in the 4th round as good as Apple?  Can they turn that fifth rounder into a defensive tackle as good as Snacks?  If not, they are going to get worse, not better.   And how are they going to replace Collins?
There are rumors out there that claim the Giants are shopping Odell Beckham Junior as well.   If that actually happens, it will prove that the G-Men are intent on getting rid of ALL their good players.   Maybe they really like some college kid coming out in 2020 and figure drafting sixth is not good enough.   Elsewise I really don't understand what the hell they are doing.
I guess we'll all know more in a few months, when free agency and the draft are done.
((Comments permitted, but ONLY on football.  Thanks.))
Current Mood:

confused
Comments
Comments have been closed for this post.