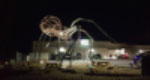 Meow Wolf is conquering America, city by city.
First came Santa Fe, in 2016.
Las Vegas is scheduled to open next year, in 2019.
Denver will follow, in 2020… and Denver will be HUUUUUUUGE.
And now, the latest announcement: Meow Wolf is moving on the nation's capitol, Washington D.C.
https://www.prnewswire.com/news-releases/meow-wolf-to-create-huge-exhibition-in-washington-dc-300763085.html
https://www.bizjournals.com/washington/news/2018/12/11/huge-multimedia-museum-meow-wolf-coming-to-fort.html
https://www.westword.com/arts/meow-wolf-breaking-ground-in-denver-breaking-news-with-dc-location-11056669
Lots more out there, if you need further details.   The story is everywhere.
And if you haven't seen the Meow Wolf documentary yet, track it down!  You will even get a glimpse of me…
Current Mood:

bouncy