I'm back from the Emmys and happy to be the first to share this exclusive look at my upcoming history of Westeros and the Targaryen lords in FIRE & BLOOD.  I hope you'll enjoy this tiny taste of what's to come!
FIRE & BLOOD will be fully illustrated by Doug Wheatley and written from the perspective of Archmaester Gyldayn.
Portions of the book have previously appeared here and there.   The chapter about Aegon's Conquest was published, pretty much as written, in THE WORLD OF ICE & FIRE.  But although much has been previously seen there are still hundreds of additional pages of new material which has never appeared before in any form, abridged or unabridged.
Madness, and Fire and Dragons OH MY!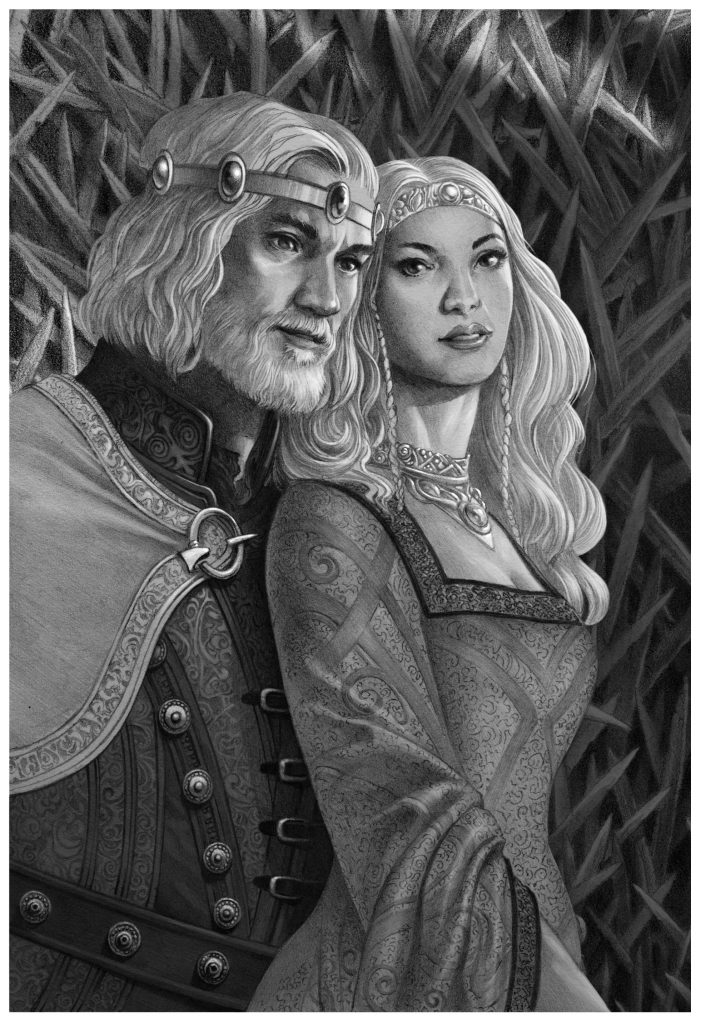 FIRE AND BLOOD EXCERPT
Several years had passed since the king had last made a progress, so plans were laid in 58 AC for Jaehaerys and Alysanne to make their first visit to Winterfell and the North. Their dragons would be with them, of course, but beyond the Neck the distances were great and the roads poor, and the king had grown tired of flying ahead and waiting for his escort to catch up. This time, he decreed, his Kingsguard, servants, and retainers would go ahead of him, to make things ready for his arrival. And thus it was that three ships set sail from King's Landing for White Harbor, where he and the queen were to make their first stop.
The gods and the Free Cities had other plans, however. Even as the king's ships were beating their way north, envoys from Pentos and Tyrosh called upon His Grace in the Red Keep. The two cities had been at war for three years and were now desirous of making peace, but could not agree on where they might meet to discuss terms. The conflict had caused serious disruption to trade upon the narrow sea, to the extent that King Jaehaerys had offered both cities his help in ending their hostilities. After long discussion, the Archon of Tyrosh and the Prince of Pentos had agreed to meet in King's Landing to settle their differences, provided that Jaehaerys would act as an intermediary between them, and guarantee the terms of any resulting treaty.
It was a proposal that neither the king nor his council felt he could refuse, but it would mean postponing His Grace's planned progress to the North, and there was concern that the notoriously prickly Lord of Winterfell might take that for a slight. Queen Alysanne provided the solution. She would go ahead as planned, alone, whilst the king played host to the Prince and Archon. Jaehaerys could join her at Winterfell as soon as the peace had been concluded. And so it was agreed.
Queen Alysanne's travels began in the city of White Harbor, where tens of thousands of northerners turned out to cheer her and gape at Silverwing with awe, and a bit of terror. It was the first time any of them had seen a dragon. The size of the crowds surprised even their lord. "I had not known there were so many smallfolk in the city," Theomore Manderly is reported to have said. "Where did they all come from?"
The Manderlys were unique amongst the great houses of the North. Having originated in the Reach centuries before, they had found refuge near the mouth of the White Knife when rivals drove them from their rich lands along the Mander. Though fiercely loyal to the Starks of Winterfell, they had brought their own gods with them from the south, and still worshipped the Seven and kept the traditions of knighthood. Alysanne Targaryen, ever desirous of binding the Seven Kingdoms closer together, saw an opportunity in Lord Theomore's famously large family, and promptly set about arranging marriages. By the time she took her leave, two of her ladies-in-waiting had been betrothed to his lordship's younger sons and a third to a nephew; his eldest daughter and three nieces, meanwhile, had been added to the queen's own party, with the understanding that they would travel south with her and there be pledged to suitable lords and knights of the king's court.
Lord Manderly entertained the queen lavishly. At the welcoming feast an entire aurochs was roasted, and his lordship's daughter Jessamyn acted as the queen's cupbearer, filling her tankard with a strong northern ale that Her Grace pronounced finer than any wine she had ever tasted. Manderly also staged a small tourney in the queen's honor, to show the prowess of his knights. One of the fighters (though no knight) was revealed to be a woman, a wildling girl who had been captured by rangers north of the Wall and given to one of Lord Manderly's household knights to foster. Delighted by the girl's daring, Alysanne summoned her own sworn shield, Jonquil Darke, and the wildling and the Scarlet Shadow dueled spear against sword whilst the northmen roared in approval.
A few days later, the queen convened her women's court in Lord Manderly's own hall, a thing hitherto unheard of in the North, and more than two hundred women and girls gathered to share their thoughts, concerns, and grievances with Her Grace.
After taking leave of White Harbor, the queen's retinue sailed up the White Knife to its rapids, then proceeded overland to Winterfell, whilst Alysanne herself flew ahead on Silverwing. The warmth of her reception at White Harbor was not to be duplicated at the ancient seat of the Kings in the North, where Alaric Stark and his sons alone emerged to greet her when her dragon landed before his castle gates. Lord Alaric had a flinty reputation; a hard man, people said, stern and unforgiving, tight-fisted almost to the point of being niggardly, humorless, joyless, cold. Even Theomore Manderly, who was his bannerman, had not disagreed; Stark was well respected in the North, he said, but not loved. Lord Manderly's fool had put it elsewise. "Methinks Lord Alaric has not moved his bowels since he was twelve."
Her reception at Winterfell did nothing to disabuse the queen's fears as to what she might expect from House Stark. Even before dismounting to bend the knee, Lord Alaric looked askance at Her Grace's clothing and said, "I hope you brought something warmer than that." He then proceeded to declare that he did not want her dragon inside his walls. "I've not seen Harrenhal, but I know what happened there." Her knights and ladies he would receive when they got here, "and the king too, if he can find the way," but they should not overstay their welcome. "This is the North, and winter is coming. We cannot feed a thousand men for long." When the queen assured him that only a tenth that number would be coming, Lord Alaric grunted and said, "That's good. Fewer would be even better." As had been feared, he was plainly unhappy that King Jaehaerys had not deigned to accompany her, and confessed to being uncertain how to entertain a queen. "If you are expecting balls and masques and dances, you have come to the wrong place."
Lord Alaric had lost his wife three years earlier. When the queen expressed regret that she had never had the pleasure of meeting Lady Stark, the northman said, "She was a Mormont of Bear Isle, and no lady by your lights, but she took an axe to a pack of wolves when she was twelve, killed two of them, and sewed a cloak from their skins. She gave me two strong sons as well, and a daughter as sweet to look upon as any of your southron ladies."
When Her Grace suggested that she would be pleased to help arrange marriages for his sons to the daughters of great southern lords, Lord Stark refused brusquely. "We keep the old gods in the North," he told the queen. "When my boys take a wife, they will wed before a heart tree, not in some southron sept."
Alysanne Targaryen did not yield easily, however. The lords of the south honored the old gods as well as the new, she told Lord Alaric; most every castle that she knew had a godswood as well as a sept. And there were still certain houses that had never accepted the Seven, no more than the northmen had, the Blackwoods in the riverlands chief amongst them, and mayhaps as many as a dozen more. Even a lord as stern and flinty as Alaric Stark found himself helpless before Queen Alysanne's stubborn charm. He allowed that he would think on what she said, and raise the matter with his sons.
The longer the queen stayed, the more Lord Alaric warmed to her, and in time Alysanne came to realize that not everything that was said of him was true. He was careful with his coin, but not niggardly; he was not humorless at all, though his humor had an edge to it, sharp as a knife; his sons and daughter and the people of Winterfell seemed to love him well enough. Once the initial frost had thawed, his lordship took the queen hunting after elk and wild boar in the wolfswood, showed her the bones of a giant, and allowed her to rummage as she pleased through his modest castle library. He even deigned to approach Silverwing, though warily. The women of Winterfell were taken by the queen's charms as well, once they grew to know her; Her Grace became particularly close with Lord Alaric's daughter, Alarra. When the rest of the queen's party finally turned up at the castle gates, after struggling through trackless bogs and summer snows, the meat and mead flowed freely, despite the king's absence.
Things were not going as well at King's Landing, meanwhile. The peace talks dragged on far longer than anticipated, for the acrimony between the two Free Cities ran deeper than Jaehaerys had known. When His Grace attempted to strike a balance, both sides accused him of favoring the other. Whilst the Prince and the Archon dickered, fights began to break out between their men across the city, in inns, brothels, and wine sinks. A Pentoshi guardsman was set upon and killed, and three nights later the Archon's own galley was set afire where she was docked. The king's departure was delayed and delayed again.
In the North, Queen Alysanne grew restless with waiting, and decided to take her leave of Winterfell for a time and visit the men of the Night's Watch at Castle Black. The distance was not negligible, even flying; Her Grace landed at the Last Hearth and several smaller keeps and holdfasts on her way, to the surprise and delight of their lords, whilst a portion of her tail scrambled after her (the rest remained at Winterfell).
Her first sight of the Wall from above took Alysanne's breath away, Her Grace would later tell the king. There had been some concern how the queen might be received at Castle Black, for many of the black brothers had been Poor Fellows and Warrior's Sons before those orders were abolished, but Lord Stark sent ravens ahead to warn of her coming, and the Lord Commander of the Night's Watch, Lothor Burley, assembled eight hundred of his finest men to receive her. That night the black brothers feasted the queen on mammoth meat, washed down with mead and stout.
As dawn broke the next day Lord Burley took Her Grace to the top of the Wall. "Here the world ends," he told her, gesturing at the vast green expanse of the haunted forest beyond. Burley was apologetic for the quality of the food and drink presented to the queen, and the rudeness of the accommodations at Castle Black. "We do what we can, Your Grace," the Lord Commander explained, "but our beds are hard, our halls are cold, and our food—"
"—is nourishing," the queen finished. "And that is all that I require. It will please me to eat as you do."
The men of the Night's Watch were as thunderstruck by the queen's dragon as the people of White Harbor had been, though the queen herself noted that Silverwing "does not like this Wall." Though it was summer and the Wall was weeping, the chill of the ice could still be felt whenever the wind blew, and every gust would make the dragon hiss and snap. "Thrice I flew Silverwing high above Castle Black, and thrice I tried to take her north beyond the Wall," Alysanne wrote to Jaehaerys, "but every time she veered back south again and refused to go. Never before has she refused to take me where I wished to go. I laughed about it when I came down again, so the black brothers would not realize anything was amiss, but it troubled me then and it troubles me still."
_____________________________________________________________
From the book FIRE & BLOOD by George R. R. Martin. Copyright © 2018 by George R. R. Martin. Reprinted by arrangement with Bantam, a division of Penguin Random House LLC, New York. All rights reserved.
Find out more about Fire & Blood here.
Current Mood:

accomplished