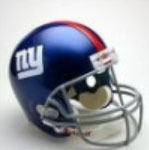 Life is meaningless and full of pain.
The Giants and Jets both played hard yesterday, but they both lost. Again.
The G-Men almost pulled off a stunning upset of the NFC-leading Eagles, but a bullshit non-call on pass interference in the endzone robbed them of the win. Eli passed for more than four hundred yards, showing why he should remain the Giants' qb until he hangs it up.
At least the G-Men tightened their grip on that second overall draft choice.
It's the Jets who need to draft a QB this year, though, not the Giants. Bryce Petty, filled in for the injured Josh McNown, did not impress.
Ah, the bleak December…
Current Mood:

depressed