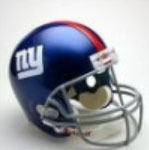 The Giants season is lost, plainly. Whether they win or lose the rest of the way is meaningless. So, yes, it makes a certain amount of sense to see what they have for the future. Eli Manning is aging… though this year's failures are hardly his fault, given the injuries to the wideouts, the lack of a running game, and the porous offensive line that gives him little or no time to throw. Big Blue has a rookie quarterback on the roster, the third round draft choice Davis Webb, and the team needs to know if he is the answer for the post-Eli era, so they can determine whether or not to spend what will likely be a very high draft pick on one of the quarterbacks coming out of college this year.
All that being said…. benching Eli Manning in the manner the Giants did yesterday was classless and inexcusable.
And benching him to start Geno Smith is insane.
GENO SMITH??? Really????
Nobody knows whether or not Davis Webb is a scrub, a journeyman, an NFL calibre starting qb, or a potential Hall of Famer. To find out, he needs some playing time, some experience. Geno Smith has had plenty of playing time, however. Geno Smith was not the answer on the Jets, and he is not the future of the Giants either.
This move smacks of desperation, and Ben McAdoo and Jerry Reese have good reason to be desperate. They were on shaky ground before this, given Reese's poor drafts and the way McAdoo has handled this disaster of a season. Come the off-season, I expect McAdoo, Reese, and Geno Smith will all be gone. I certainly hope so.
The sad part is that Eli may well be gone as well.
Eli may be aging, but he is not yet old. He is younger than Tom Brady or Drew Brees, both of whom are still going strong, and he has never missed a start. He has two or three more good seasons in him, I think. Whether his successor is Davis Webb or a college qb yet to be drafted, the best course for the Giants would be to identify that successor and then let him sit and learn from Eli, the way Brady sat behind Drew Bledsoe, Chad Pennington sat behind Vinnie Testaverde, and Aaron Rodgers sat behind Brett Favre. But that may be impossible now.
Instead….
Oh, life is miserable and full of pain.
Current Mood:

angry