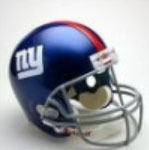 The Jets are playing better football than anyone could have expected.
And the Giants are unbelievably bad. Before the season began, some people had them picked as SuperBowl contenders. Instead they are contending for the number one draft pick.
"That's why they play the games," Chris Berman used to say.
(And damn, do I miss Chris Berman. ESPN's Sunday COUNTDOWN has become unwatchable without him and Tom Jackson. I've deleted my season pass).
Weirdest NFL season I can remember.
(Comments allowed. FOOTBALL ONLY).
Current Mood:

confused