The last few weeks have been pretty busy, so it's been awhile since I last made one of my Hugo posts. Right now we are smack in the middle of the nomination period for this year's awards, with about another month to go. To nominate, you need to be a member (attending or supporting) of this year's worldcon in Helsinki (where the awards will be given), last year's worldcon in Kansas City, or next year's worldcon in SanJose. Any one of the three will do… for nominating, at least.
I've been tackling a different category with every post. Today's it is Best Related Work, a sort of grab bag of a category that includes books of criticism, biographies and memoirs, art books, and pretty much everything else that does not fit conveniently in any of the other categories.
Sad to say, Best Related Work is also the category that has been abused most by the slates these past two years. It's the only Hugo category where No Award has come out on top (I won't say 'won,' when No Award comes first, nobody is winning) twice in a row, where the slates swept all before them and forced all the legitimate contenders off the ballot.
Last year was especially sad, I thought, since there were at least three very different books all of which should have been nominees… and would have been, in a normal year. There was the eventual Alfie winner, LETTERS TO TIPTREE. There was the mammoth WHEEL OF TIME COMPANION, edited by Robert Jordan's widow and two of his fans. And there was Felicia Day's delightful YOU'RE NEVER WEIRD ON THE INTERNET, a memoir of her life as a geek girl, fan, and budding actress/ writer/ gamer. It would have been interesting to see the three of them slug it out, but alas, the slates made sure not one of them made the final ballot.
But a new year means a new ballot. Wouldn't it be nice to have something — at least ONE something and preferably more — in the Best Related Work category that was worthy of the Hugo award?
I have a couple of Related Works to offer for your consideration.
First one is Kameron Hurley's THE GEEK FEMINIST REVOLUTION, a collection of her essays, thoughts, and personal reflections.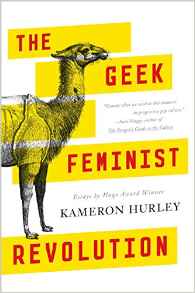 Hurley won two rockets just a couple of years ago, one for Fan Writer and one for her essay "We Have Always Fought," which won for… hey… Best Related Work. That essay is included here, but the book is not all reprint, there's enough original material to make it eligible, if I am reading the rules right. Hurley is a provocative, opinionated, fearless writer, one who says what she thinks and lays it all out there on the page. You may not always agree with all of her opinions (I certainly don't), but she will always make you think. Whether her book leaves you nodding in agreement or muttering in annoyance, it will not leave you unmoved. By rights, this one's got to be a contender.
The other Related Work I really enjoyed last year is a book of interviews — TRAVELER OF WORLDS: CONVERSATIONS WITH ROBERT SILVERBERG, by Alvaro Zinos-Amaro.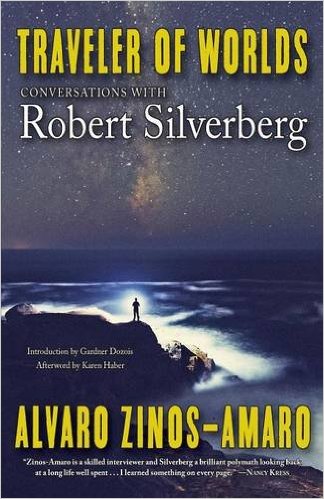 Robert Silverberg is the only man to have attended EVERY Hugo Awards ceremony, from 1953 to the present. Think of that: all those years, all those rockets, and there's never been one given out without Silverbob in the audience. He's one of our field's great writers, a SFWA Grand Master, a worldcon Guest of Honor. He's won Nebula Awards and Hugo Awards aplenty, but he's also lost more Hugos in the fiction categories than any other writer.
At my very first worldcon — Noreascon I in Boston, 1971 — Silverberg was the Toastmaster, and presented the awards with his trademark dry wit while I watched from the balcony (I could not afford the price of a banquet ticket). I remember thinking two things: (1) someday I want to win one of those rockets, and (2) Silverberg is who I want to be when I grow up. I did manage to achieve (1) a few years later. In fact, at the next Noreascon in 1980, Silverberg was once again the Toastmaster and presented me with two, on a night that will live in infamy. I am still working on (2).
In those days, Silverberg was a distant godlike figure to me, but in more recent years, to my delight, we've become friends. This past decade, we get together every year at worldcon for dinner. Bob is just as witty over a steak as he is at a podium, and he knows everything about the history of SF and fandom and all the writers and every book you've ever read and a whole lot you keep meaning to read but haven't gotten to yet.
TRAVELER OF WORLDS is like one of our worldcon dinners turned up to the max. Alvaro Zinos-Amaro must have moved in with Silverberg for a month, and I envy him that. These conversations range far and wide, and every one of them is fascinating. If you have any interest at all in writing, the history of the genre, Silverberg's own life, the classics of literature, the greats of our field both living and dead, there's something for you here. I only wish the book was twice as long. Like my worldcon dinners with Silverberg, it ended far too soon.
One reason that the slates have been able to dominate Best Related Work the past two years, to the exclusion of all else, is that many voters skip over this category. It never gets nearly as many nominations as Best Novel or the drama categories. But we can change that, if we want. I urge you all to take a look at TRAVELER OF WORLDS and THE GEEK FEMINIST REVOLUTION, and — if you enjoy them as much as I did — nominate them.
If enough of us do, maybe this year we can actually give a Hugo Award to a Related Work.
(And wouldn't it be a hoot if it was Silverbob. Even though Alvaro Zinos-Amaro would likely get the actual rocket, I would still have to make Bob wear a conehead at the Hugo Losers' Party).