[Ogre Jenni here! This Thursday Jean Cocteau Cinema will celebrate the release of Syfy's newest show, The Expanse, based on the hit sci-fi series by James S.A. Corey.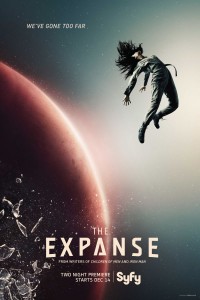 At 4:00 p.m. Daniel Abraham and Ty Franck, the authors who make up the pseudonymous James S.A. Corey, will sign books from their New York Times bestselling series, The Expanse. The author event is only $10, and we will have all of the books from The Expanse series available for purchase.
Later on at 8:30 p.m., Alcon Television Group and the Cocteau will present a free sneak peek of the first two episodes of Syfy's new television series based on the books. The first fifty patrons who attend the book signing will be given priority seating at the public premiere!
ABOUT THE SHOW (FROM ALCON TELEVISION GROUP):
<lj-embed id="638″/>
Set 200 years in the future, The Expanse follows the case of a missing young woman that brings a hardened detective (Thomas Jane, Hung) and a rogue ship's captain (Steven Strait, Magic City) together in a race across the solar system that will expose the greatest conspiracy in human history. Emmy® winner and Oscar nominee Shohreh Aghdashloo (House of Saddam, House of Sand and Fog) also stars as Chrisjen Avasarala. Rounding out the cast are Dominique Tipper (Vampire Academy), Cas Anvar (Olympus), ­Wes Chatham (The Hunger Games: Mockingjay) and Florence Faivre (The Following). Paulo Costanzo (Royal Pains), Chad Coleman (The Walking Dead) and Jay Hernandez (Suicide Squad) will appear as guest stars throughout the series' first season.
Academy Award-nominated screenwriting duo Mark Fergus and Hawk Ostby (Alfonso Cuaron's Children of Men, Iron Man) wrote the pilot and serve as writers as well as executive producers. Executive producer Naren Shankar (CSI, Farscape) joins Fergus and Ostby as showrunners. Award-winning director Terry McDonough (Breaking Bad, Suits, Better Call Saul) directed the first two episodes of the series.
JUST FOR FUN:
If you haven't watched this interview by Geek & Sundry: Sword and Laser with James S.A. Corey, you should check it out. They get into the nitty gritty of working as a duo, and they answer a number of fan questions from the Geek & Sundry Goodreads Forum. The extended interview with James S.A. Corey is also a fun listen. They tackle the important literary issues—like why there aren't space cats in The Expanse. Enjoy!
<lj-embed id="639″/>