Only six days remain on my big Prizeo fundraiser on behalf of the Wild Spirit Wolf Sanctuary and the Food Depot of Santa Fe. We've raised some $459,000 as I write, but we're still short of our half-million dollar goal. So if you have some spare change and/or folding green in your pocket, come help push us over the top with a late surge!
https://www.prizeo.com/prizes/georgerrmartin/a-wolf-sanctuary-tour-and-helicopter-ride
Many of the special incentive prizes have been snapped up… but some remain.
You can still book a brunch with me at San Diego Comicon, a week from Sunday. (Hand at the Table).
You can still buy my red flame suspenders… yes, the pair I am wearing in the avatar pic above. (Khaleesi). They're worn, but they have done good service, and I am sure many of you would look better in 'em than I do.
Also.. some of you may recall that Bantam Spectra changed the cover design of A FEAST FOR CROWS before the book was released, and never used the beautiful Jaime Lannister artwork that Stephen Youll had painted. But we have some copies of the never-used original covers, and we're offering those as well. (Stag)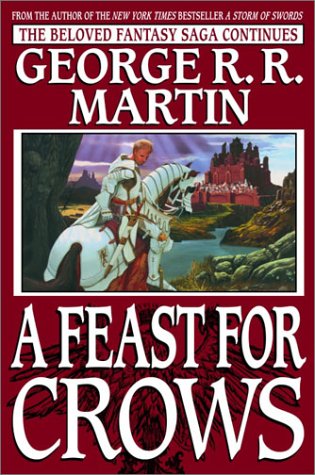 These cover flats have never been used. A rare collectible, a few of them have turned up on ebay in recent years, sometimes with minimum bids in the thousands of dollars. And those are unsigned. Buy one for the wolves, and I'll autograph/ deface it (or not), as you please. And the money will go to feed the homeless and shelter the wolves… plus buying you more tickets for the grand prize.
The grand prize, of course, remains the same: a trip to Santa Fe from anywhere in the world, a day with me, and a helicopter visit down to Candy Kitchen, New Mexico to see Wild Spirit and visit the wolves.
So join in… and do watch the site closely. We plan to add a few more last minute incentive prizes on Wednesday, before the fundraiser closes down on Friday.
<lj-embed id="455″ />
Current Mood:
null