It's been a great week for GAME OF THRONES in Hollywood, with both the Screen Actor's Guild and the American Film Institute bestowing honors and recognition on the HBO series, and some of the folk who work so hard to make it great.
SAG announced the nominees for its annual awards this morning. I'm thrilled to say that the cast of GAME OF THRONES are nominated as Best Performance by an Ensemble in a Television Drama, on a shortlist that also includes our familiar rivals BOARDWALK EMPIRE, BREAKING BAD, DOWNTON ABBEY, and HOMELAND. The guild members also nominated our fearless stuntwomen and stuntmen for Outstanding Action Performance by Stunt Ensemble in a Television Series. BOARDWALK EMPIRE, BREAKING BAD, and HOMELAND are up in that category as well, along with THE WALKING DEAD. And Peter Dinklage, our once and future Tyrion Lannister, was nominated as Best Actor in a Television Drama. He will vie for the award against Steve Buscemi (BOARDWALK EMPIRE), Bryan Cranston (BREAKING BAD), Jeff Daniels (THE NEWSROOM), and Kevin Spacey (HOUSE OF CARDS).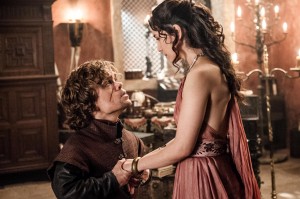 For a full list of the nominees, go to:
http://www.huffingtonpost.com/2013/12/11/sag-awards-2014_n_4422434.html
The SAG nominations follow close on the heels of AFI's annual announcement, recognizing their ten favorite films and television shows of the previous year. GAME OF THRONES made the list for the third year in a row. The AFI recognition is especially nice since it has no winners and no losers; all ten of the chosen films and television shows share the recognition.
AMERICAN FILM INSTITUTE
AFI AWARDS 2013 OFFICIAL SELECTIONS
AFI MOVIES OF THE YEAR
12 YEARS A SLAVE
AMERICAN HUSTLE
CAPTAIN PHILLIPS
FRUITVALE STATION
GRAVITY
HER
INSIDE LLEWYN DAVIS
NEBRASKA
SAVING MR. BANKS
THE WOLF OF WALL STREET

AFI TV PROGRAMS OF THE YEAR
GAME OF THRONES
THE AMERICANS
BREAKING BAD
THE GOOD WIFE
HOUSE OF CARDS
MAD MEN
MASTERS OF SEX
ORANGE IS THE NEW BLACK
SCANDAL
VEEP
Tomorrow the Golden Globe nominations will be announced, and we'll see if the members of the Hollywood Foreign Press Association will make us three for three. Keep your fingers crossed.
A DAY LATER: Skunked in the Golden Globes. 🙁 As Vizzini would say, "Inconceivable!"
Current Mood:
null