And she's bringing Bugsy with her. (Well, maybe not intentionally, but it's hard to keep Bugsy out).
For all you Wild Cards fans out there who are tired of waiting for the next book… we have a little treat coming to tide you over, a brand new original never-before-published Wild Cards story, not part of any previous anthology or mosaic novel.
It's called "When We Were Heroes," it's by Daniel Abraham, it features Curveball and Bugsy.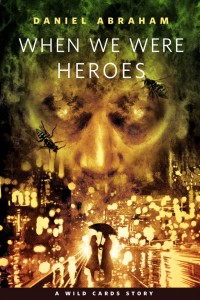 Look for it (not yet, but soon, soon) on Tor.com — as an ebook, natch. For the moment, that's the only way it will be available. Eventually we hope to collect this story and a few other Wild Cards originals in an actual paper book, but that will probably be a few years down the line, when we have enough material.
That's the "cover" up above, by the amazing Hugo-winning John Picacio, and my, ain't it swell?
Elsewhere in the Wild Cards universe, the JOKERS WILD reprint is in Tor's pipeline, we're adding two new stories to the ACES ABROAD reprint that will follow (as we did for volume one), LOWBALL is edging closer to delivery, and we'll be moving right on to HIGH STAKES after that. We have more Wild Cards originals coming up on Tor.com too, so keep an eye on that site.
UPDATE: Just got some new information from my friends at Tor.
"When We Were Heroes" will debut on the Tor.com website on JANUARY 16, at 9 AM (Eastern). The ebook version will be available for purchase "about a week later."
Also, the JOKERS WILD reissure has been scheduled for February 2014, as a trade paperback.
Current Mood:
null