ENDING SOON!!!
Our supply of DANCE WITH DRAGONS is sold out, but there are still copies of the CAPTAIN OF GUARDS chapbook available for a $10 donation to the wolves.
==================================================================
I've always been fond of wolves… direwolves in Westeros, and real wolves in the real world.
Wolves have faced a tough road for the last century or so. US wolf populations hit critical lows during the twentieth century, and finding a way for humans to co-exist with this majestic creatures is an important part of the conservation movement. Here in my home state of New Mexico, we have the Wild Spirit Wolf Sanctuary (http://www.wildspiritwolfsanctuary.org/index.php) doing important work in protecting the animals and in educating their two legged neighbors on how to get along. It's work I strongly support, with both my words and my checkbook.
I invite you to join me over the next week. In conjunction with Wild Spirit, I'm sponsoring a charity drive to raise funds for the shelter. For the next week, we'll be offering a pair of items from my personal library to people making donations. You can find the books being offered and the donation amounts here: http://www.wildspiritwolfsanctuary.org/georgemartin_bookfund.php
For a donation of $100 to the Wild Spirit Sanctuary, I will send you a first edition hardcover of A DANCE WITH DRAGONS, autographed… autographed and personally inscribed (upon request). For the most part I have been forced to stop doing personal inscriptions at my bookstore signings, con appearances, and the like… the crowds have simply gotten too large… so this is a rare chance for those who'd like to have a book personalizations. But the offer is limited to forty (40) copies, first come, first served. So if you want one, click on the link and make that donation NOW.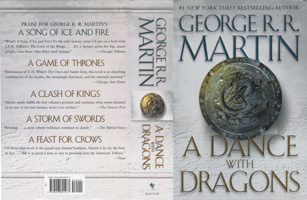 For those who can't afford a hundred bucks, or arrive at the party too late after the forty copies are gone, we have another offering — a special promotional chapbook featuring the "Captain of the Guards" chapter from A FEAST FOR CROWS. This was prepared by Bantam as a promotional item for the BEA (Book Expo America) and was given away to attendees at that event, but copies were never sold in any bookstore, so it's a pretty cool collectible for the fans who have everything, and a $10 donation to the sanctuary will snag you a copy. I will be glad to sign these items as well — but, alas, only a straight signature, no personalization or inscription.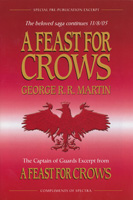 So $10 will get you a signed CAPTAIN OF THE GUARDS, and $100 will get you a signed and inscribed DANCE WITH DRAGONS. But don't do it for the books. Do it because the world would be a much worse place without this face in it.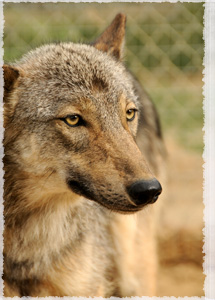 THIS DRIVE WILL END ON SATURDAY AT MIDNIGHT. So if you would like to make a donation and give some wolves a hand, act now. Do it for House Stark. If we raise enough money, maybe I'll let some Starks live a little longer…
Current Mood:
null