By popular demand, we've scheduled another Albuquerque mass signing for the latest Wild Cards hardcover, SUICIDE KINGS (volume twenty in the overall series, and the third and concluding book of the current triad).
This time we will be at the Barnes & Noble in Coronado Center, on the southwest corner of Menaul and Louisiana NE in Albuquerque. The event is scheduled for Saturday, February 20, and will run from 1:30 pm until… well, it says 3:00 here, but really, until we run out of people who want us to deface their books with our illegible scrawls.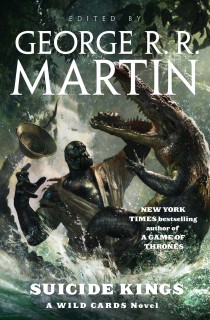 On hand, besides yours truly, will be our local Wild Carders Melinda M. Snodgrass, Daniel Abraham, Victor Milan, John Jos. Miller, and Ian Tregillis… whose character Rustbelt is featured there on the cover (he's the one losing the pith helmet). Caroline Spector will be coming in from Texas to join the festivities, and Carrie Vaughn will be coming down from Colorado. Carrie's latest, KITTY'S HOUSE OF HORRORS, the seventh volume in her NEW YORK TIMES bestselling Kitty Norville series, will also be out, and copies will be available for signature. I imagine B&N will have INSIDE STRAIGHT and BUSTED FLUSH on hand as well, for them what missed 'em (shame on you), along with lots of other titles, old and new, by the participating authors.
So if you're in the vicinity of New Mexico on the 20th, drop on by. We'd love to see you.
Visit the Barnes & Noble events page for more info:
http://store-locator.barnesandnoble.com/event/3026739
Current Mood:
null