*This Message has been brought to you by the Minions of Fevre River*
We're happy to announce in conjunction with Random House publishing and other amazing licensee's of SoI&F such as Dark Sword Miniatures, Shire Post, and Fantasy Flight Games;
The 20th Anniversary Edition of A Game of Thrones BOXED EDITION.
As part of the celebration Random House is releasing not only the book itself, which is fully illustrated and leather bound, but also three special LIMITED editions that will include exclusive hand picked items in a gorgeous wooden display box.
Random House will be hosting a live online unboxing event on Face Book page tomorrow if you want to catch this live sneak peak showing of just what to expect in one of their special, limited, and ultra limited editions of the one and only GRRM box.
If you're more of a hands on kind of person the Box itself will be displayed at the PRH booth at New York Comic Con from October 6-9th.
These boxes will only be available for a short time, with only 200 Ultra Limited Editions available, so check out the website listed below to get a better idea of all the excitement.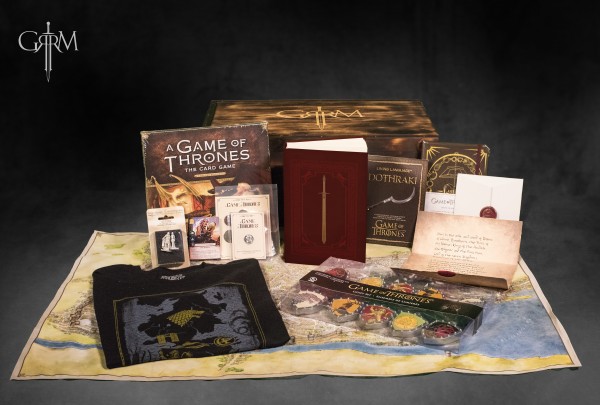 And to sweeten the pot for you guys Random House will be giving a FREE Stark Ornament to the first 1,000 pre-orders!
Check it out and get caught up in the Game all over again!
THIS MESSAGE HAS BEEN BROUGHT TO YOU BY THE MINIONS OF FEVRE RIVER