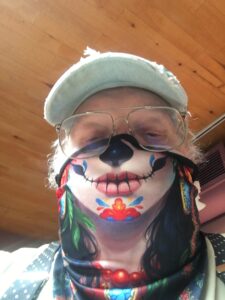 New Jersey is in my blood.   I was born in Bayonne in 1948, and hardly set foot outside the city until I finally went off to college in 1966, way way off to Northwestern in scenic Evanston, Illinois.   Most of my family still lives in the Garden State, and I like to get back to see them whenever I can… which has not been very often since the pandemic hit two years ago.   I need an occasional Jersey bar pie too, the best pizza in the world, and Judickes' sprinkle donuts from old Bayonne.
Kevin Smith is a Jersey boy too, and a hard core nerd and fanboy.   He has had his own comic book shop in Red Bank for years; they even had their own TV show.   More recently, Kevin bought an old 1920s movie theatre, refurbushed it, rechristened it the Smodcastle, and reopened it.   I was delighted when he invited me down for a night of conversation.
It was a ton of fun.
And turnabout is fair play, so watch this space.   Kevin will be headed down to the Land of Enchantment next year, to speak at my own mini movie palace, the Jean Cocteau Cinema.
Woot!
Current Mood:

dorky