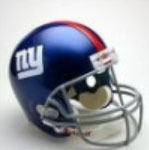 The NFL is back,  and I don't know whether I should cheer or weep.
Hope springs eternal, especially for fans of the Giants and Jets.   Especially this year.   Both teams had terrific drafts, picked up a lot of great young stars… or players who are supposed to be stars, at least.    Will this be the year we finally turn the corner?
Then the regular season begins.   As it did yesterday.
The Jets opened up the season with the Ravens.   What can I say?   Sigh.    Same Old Jets.
Then came the Giants down in Nashville, with the Titans.   They fell behind early, and deep into the second half I was figuring I'd be opening this post with "Life is meaningless and full of… "
But then, hey, is that Saquon?   He's running like he used to!   And the Giants are coming back… oops, behind again… no, wait, hey, driving… TD!!   They can tie it up… overtime… but, hey, the new coach is going for two!   And Saquon takes it in!   We're up, we're up!   We could actually win!  Only.. damn… the Titans are driving… they are in field goal range, hell, life is meaningless and full of…. NO!  YES!  Wide left!   We win!   We WIN!
The first opening day victory in years and years for Big Blue.   And the coach showed real guts.
Maybe there is light at the end of the tunnel.   A bright blue light.
Now let's do it again, guys.
Current Mood:

hopeful